He'll be the first to say he isn't like any other candidate running for city council in Vancouver's upcoming municipal election. He doesn't wear suits. He's not a lawyer or CEO. He has never dabbled in politics before. But what Gerald 'Spike' Peachey does have in droves is lived experience involving some of the city's most pressing issues.
As Spike sits at a table in the patient waiting area of Providence Health Care's Crosstown Clinic – the place he credits with saving his life – he bluntly says, "Crosstown gave me my life back. When I came here, I was at the end of my rope, waiting to die. I didn't know how long I could continue."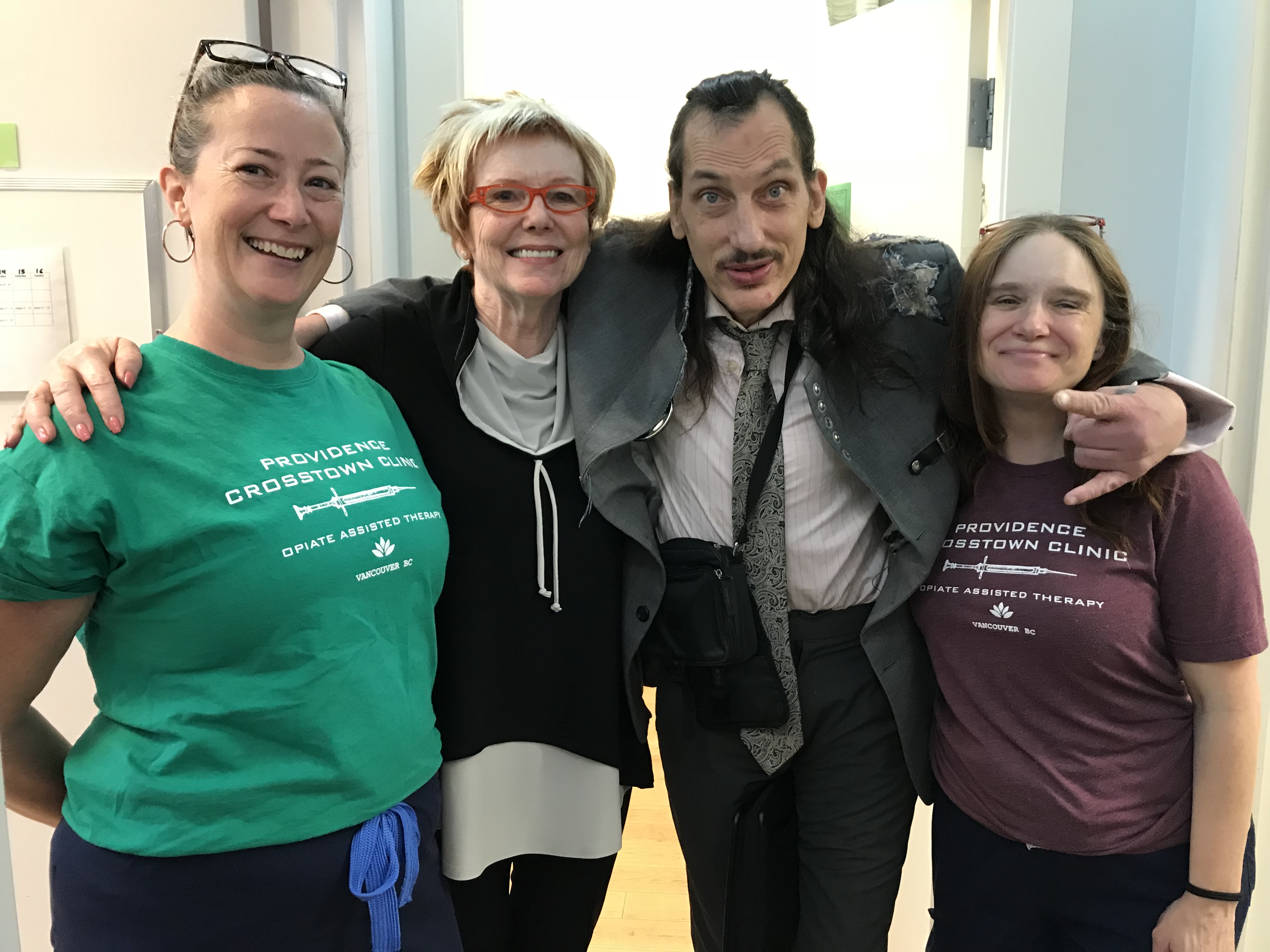 For seven years now, Spike has come to Crosstown up to three times a day for a dose of prescription heroin, also known as diacetylmorphine. It's the only treatment that has ever worked to control his pain and subsequent chronic substance use disorder. (Read more about SALOME, the research study that led to Crosstown Clinic, HERE.)
While he dabbled in illegal drugs as a teenager and young adult, it was a near-fatal accident in 2007 that turned his world upside down. At the time, Spike had his own business in the tech sector. He was out for a bike ride near Royal Columbian Hospital in New Westminster when a driver talking on a cell phone slammed into him. Spike was gravely hurt with many serious injuries to every part of his body, including fractures in his skull and back. He spent 10 months in hospital and left in excruciating pain.
The cocktail of oxycodone and methadone that his doctor prescribed helped him limp through life for a few years. But Spike says he was eventually "cut off cold", without explanation, and that forced him to take to the streets. He did everything he could to feed his $250 a day opioid habit – "wheelin', dealin' and stealin'" is how he describes it.
Then, Spike got into treatment at Crosstown, the only clinic in North America offering prescription heroin treatment. "It's medication," Spike states. "If someone has cancer, should we not give them medicine?"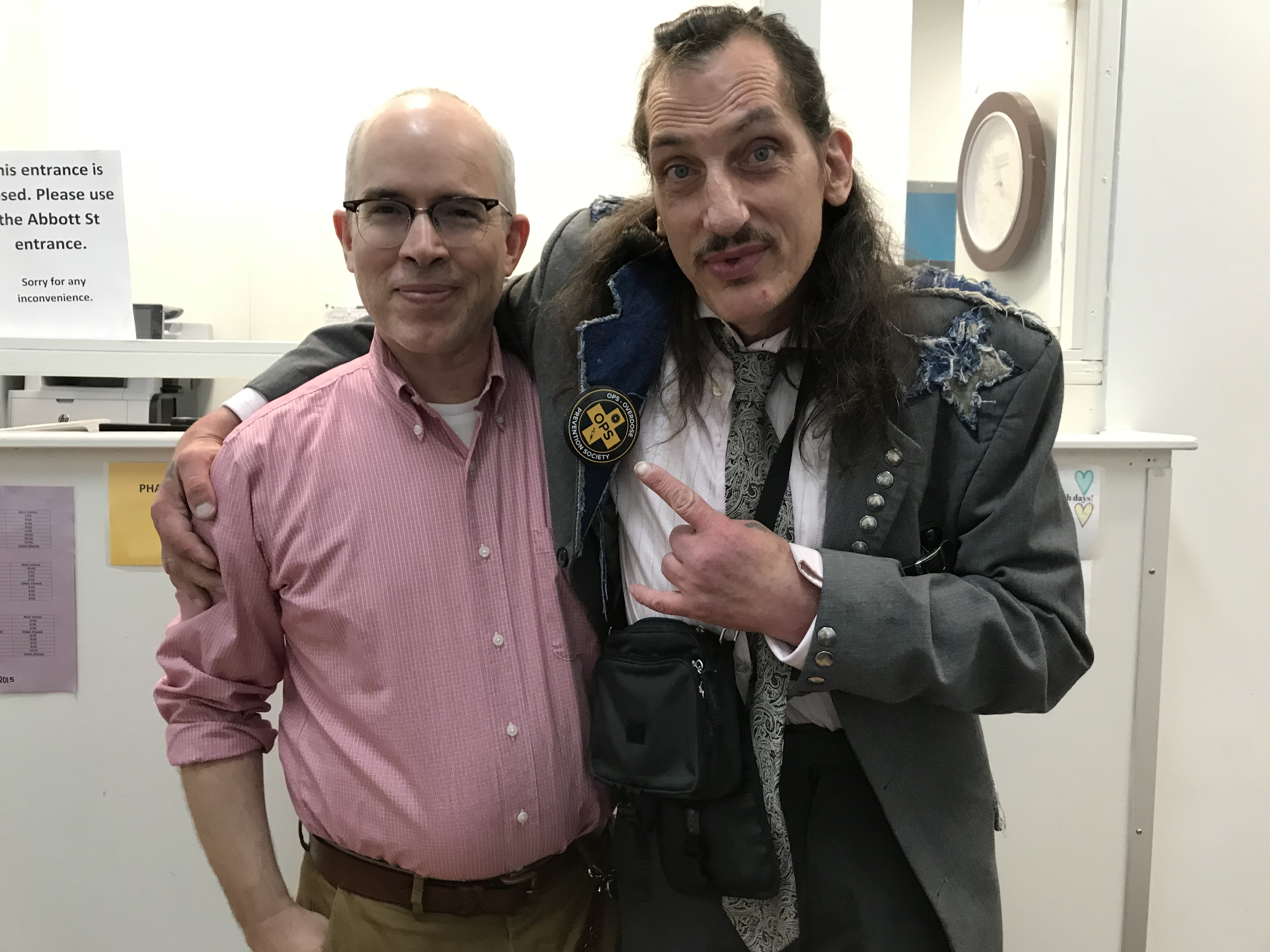 It took several years of stable medication and support from the various staff members, nurses and physicians at the clinic to get Spike to a place where he was able to accept who he is now. He had thought his professional life was over, and he wasn't sure how he could find purpose, but a meeting at St. Paul's Hospital at the start of the opioid crisis galvanized him into action.
Spike remembers standing up, speaking bluntly and honestly, sharing his ideas for solutions. "That's the day I woke up and said I was going to make a difference, get a proper job, a proper wage, a proper title. It showed me I had something to offer."
He has been a tireless advocate for harm reduction and human rights, plus he helped organize an anti-stigma campaign in the DTES. Earlier this year, he started working as an Outreach Specialist for the BRAVE Technology Cooperative. Then someone asked him if he'd ever consider running for city council.
"I don't know why I survived, but perhaps I survived to give a voice to people who don't have a voice," he says with a smile.
Campaigning for the October 20th election is ramping up. The mid-50s DTES resident has a platform based on affordable housing, equitable representation, public services and solutions for the opioid crisis. Of course, this includes more spaces for injectable opioid treatment.
After all, he says he's the perfect example of how the right treatment can transform lives. Spike leans forward in earnest, excited that Vancouver seems ready for something different. "I want to be the change that ignites the city and turns it into the most equitable and accessible city in the world. A vote for Spike is a vote for the people."