---
October 10 is World Mental Health Day, a day for global mental health education, awareness and advocacy against social stigma.
---
Last spring, Mariah Carey revealed her long-time battle with bipolar disorder in an interview with People magazine. A few months earlier, Olympic swimmer Michael Phelps shared his experience with depression at a mental health conference. And not long before that, Prince Harry told the Daily Telegraph he sought counselling after years of struggling to come to terms with his mother's death.
These are just a few recent examples of high-profile celebrities who decided to speak publicly about their mental health issues. The list goes on: Adele, Ryan Reynolds, Beyoncé, Demi Lovato and Dwayne "The Rock" Johnson have all been candid about their personal experiences with mental illness.
These revelations inevitably illicit a flood of public response. Many people are sympathetic, others are quick to identify, and some are surprised to learn that a superstar with all the fame and fortune in the world could feel anything less than fabulous.
Starting the conversation
When celebrities speak, the world tends to listen. So when stars open up about mental health, it gets people talking about the often-avoided subject – and that's a good thing, in the opinion of Dr. Harpreet Chauhan, Providence Health Care's Head of Psychiatry.
"The more that people talk about any kind of illness – whether it's depression or anxiety, whether it's epilepsy or Down syndrome or high blood pressure – the more that people talk about it, the more it can lead to discussion," she says.
According to the Canadian Mental Health Association, in any given year, one in five people in Canada will personally experience a mental health problem or illness. By age 40, about 50 per cent of the population will have or have had a mental illness. Yet the stigma surrounding mental health issues causes many to suffer in silence.
While Dr. Chauhan hasn't seen any literature on the impact of celebrity mental health revelations, she says the public conversation inspired by these announcements can open up people's minds.
"The overall discussion that occurs, I think decreases stigma for sure," she says.
'You don't know what's happening behind closed doors'
Celebrities are not immune to mental illness, nor are they immune to suicide. Last June, news that fashion designer Kate Spade and celebrity chef Anthony Bourdain both died by suicide came as a shock to their fans and followers worldwide.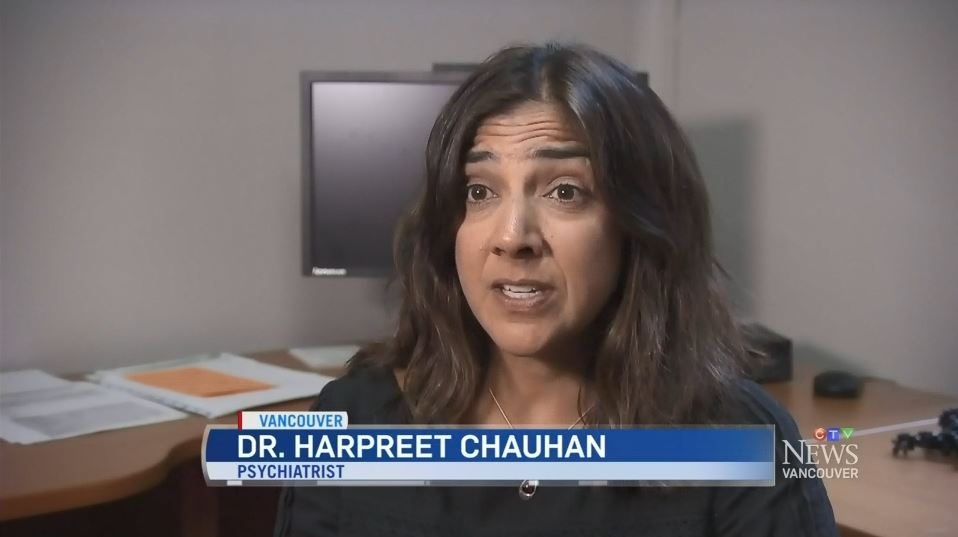 "I personally felt that it was an opportunity for the media to also talk about suicide and bring awareness," says Dr. Chauhan, who appeared on CTV News and the Simi Sara Show in the wake of the tragedies.
According to a Public Health Agency of Canada analysis, an average of 10 people die by suicide each day in this country. Of the approximate 4,000 deaths by suicide each year, more than 90 per cent were living with a mental health problem or illness. Meanwhile, the suicide rate in Canada is on the rise, according to data compiled by the Centre for Suicide Prevention.
The shock that accompanies the suicide deaths of famous celebrities, like Spade and Bourdain, is partly due to the public perception that they lead ideal lives. Why would someone with wealth and privilege want to end things?
"It just helps emphasize that you don't know what's happening behind closed doors and that it really can happen to anybody," Dr. Chauhan says.
More work to be done
While progress has been made toward destigmatization, Dr. Chauhan says more people need to talk openly about mental illness, including health care professionals.
"We need to step up our role modelling and be really open to talking about it and really use ethical and respectful language when talking about patients or clients that are ill," she says.
When she started medical school, she assumed by the time she retired, depression and anxiety would be treated the same as diabetes, rheumatoid arthritis, or any other chronic illness. Today, 20 years into her psychiatry career, the stigma remains.
"There's been improvement, but [mental illness] is still highly stigmatized and it's really no different from any other illness. It's a chronic illness, it affects your body, it affects your relationships, it affects how you work. It's really no different and it should be treated with that same respect."
If you or your loved one is experiencing a psychiatric emergency or crisis, please call the Mental Health Emergency Services 24 hour crisis line – 604-872-3311.