BC Centre on Substance Use researcher Dr. M-J Milloy has been named the inaugural Canopy Growth professor of cannabis science at the University of British Columbia.
In this new role, Dr. Milloy will research the role of cannabis in opioid overdose treatment. According to a news release from the Ministry of Mental Health and Addictions, initially, this professorship will lead clinical trials to explore the role cannabis can play in helping people with opioid-use disorder stay on their treatment plan.
As a substance-use epidemiologist, Dr. Milloy's research has focused on the inter-relationships between illicit drugs and HIV, as well as the public health impact of cannabis regulation and the medical application of cannabis and cannabinoids, especially for people living with HIV or substance-use disorders.
In the first nine months of 2018, an estimated 1,143 people died of a suspected opioid overdose in BC.
Research shows that fewer than one-third of people who start opioid agonist therapy (OAT), with methadone or buprenorphine/naloxone, remain in treatment after six months. Dropping out of addiction treatment is a serious risk factor for overdose death. Findings from these clinical trials could help identify ways to better support people with opioid-use disorder with cannabis-based therapy.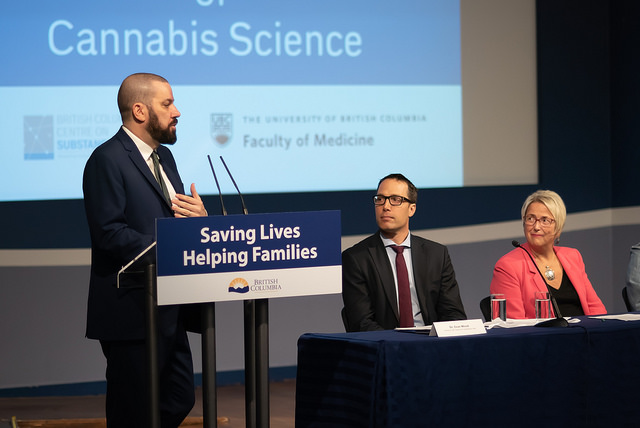 Dr. Milloy's research will contribute to an emerging body of evidence suggesting that cannabis can have a positive impact on the well-being of people with opioid-use disorder.
"The therapeutic benefits of cannabis are only just beginning to be understood," he said in a statement. "Early research has shown that it could have a stabilizing impact for people with opioid-use disorder, improving their quality of life and offering a pathway to long-term treatment solutions. In the midst of an overdose crisis, we have a scientific imperative to build upon this research."
This professorship is being funded by cannabis company Canopy Growth and the Province of British Columbia. The province invested $500,000 to the BCCSU in support of research leading to solutions to the overdose crisis. Canopy Growth is contributing $2.5 million to UBC and BCCSU to establish the professorship and create an enduring legacy of research through the Canopy Growth Cannabis Science Endowment Fund.
Read the original press release here.