Paper or plastic?
At Mount Saint Joseph Hospital, the answer is paper.
For years, the hospital supplied a plastic bag for the clothes and belongings of patients leaving the Emergency Department. But now, a plain paper bag is placed on the patient's bed.
This change is thanks to Tracy Waldron, a porter ward aid, who is working on improving the environmental impact of her small corner of the world.
 "You hear it on the news all the time," Waldron says regarding plastic waste and its impact on the oceans.
The overall effect the hospital has on the environment is a concern to those who work there.
"It's a conversation that's always going on in the hospital," says Waldron, who has been at Mount Saint Joseph for 42 years.
Small changes make a difference
However, there are limitations on what can be done. For instance, plastic used at the hospital cannot be recycled because of the biohazard risks to those sorting the recycling.
Replacing soft plastic bags that leave the hospital was an ideal place to start, according to Waldron, because they're often not used anyway.
"If it's not used, we take it home for organics," Waldron says of the paper bags, adding they can't be passed on to other patients.
Homeless patients, especially those with wet clothes, are still offered plastic bags.
Waldron has been backed by her operations leader, which has helped her institute the change. Endoscopy and Radiology have also followed suit.
This small adjustment keeps about 8,750 soft plastic bags per year out of the landfill.
Waldron hasn't just focused on replacing plastic bags – she has also replaced Styrofoam cups with biodegradable ones and is looking into replacing straws as well.
Blood pressure cuffs the next step
Waldron has also turned her attention to the single-use blood pressure cuffs used by the Emergency Department.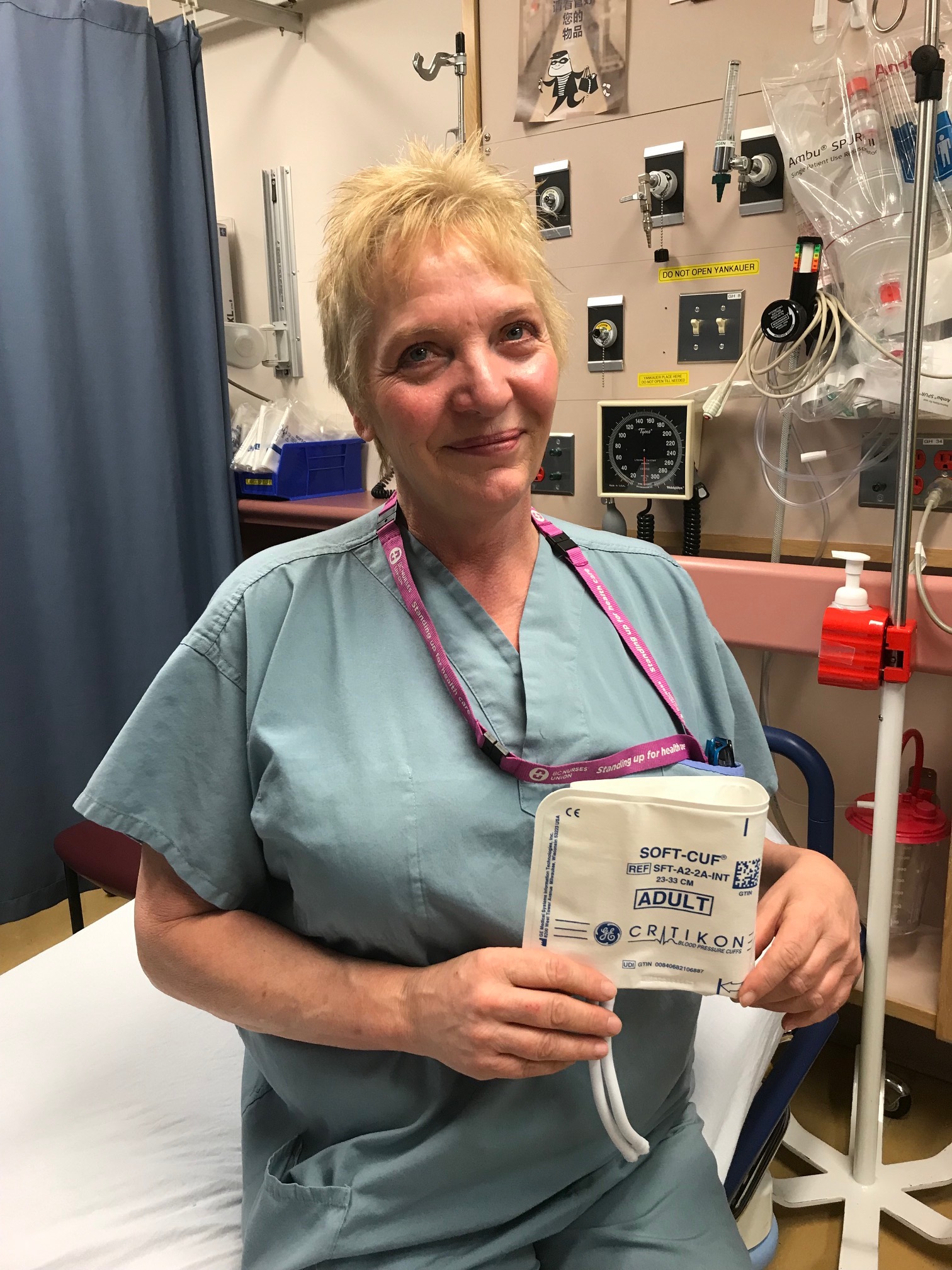 She discovered that the Surgical Daycare was getting their blood pressure cuffs picked up by Stryker's Sustainability Solutions, a company headed out of Arizona. They reprocess single-use medical devices.
Now, Waldron is arranging to have the Emergency Department's blood pressure cuffs included in the pickup.
"Right now we're just in the process of making sure housekeeping is on board with us because they're the ones who would be throwing them into the bins," she says.
There are 80 to 100 blood pressure cuffs used daily by the Emergency Department, she adds.
Anyone can do it
Waldron points out that the changes she is making just took a little research by one person. Because Waldron deals with supplies and knows what is needed, she was able to look at what was coming into the Emergency Department, and take steps in that area.
She can't take on projects for the whole hospital but says individuals in each department can do something.
"That's all I can worry about, is my department," she says. "Everybody has a ward aid, so they can take the initiative."