Providence Health Care's Megamorphosis project has been awarded the 3M Health Care Quality Team Award by the Canadian College of Health Leaders for 2019.
Megamorphosis is PHC Residential Care's movement to transform our care homes from a traditional model to a social model of care, to better meet the needs of our residents, their families, our staff, and the people in our community. The project centres on a high-intensity two-week period of rapid-cycle testing of ideas during which staff, residents and families co-create and test these changes together.
"A big congratulations to Providence's residential care team for being honoured with the 3M Health Care Quality Team Award for the Megamorphosis project," says Fiona Dalton, President and CEO of Providence Health Care. "I have been so impressed by how this project enables staff, residents and families to work together to create and test different ways of working that transform the quality of life of our residents. Our residential care team absolutely deserves this very prestigious award." 
Megamorphosis evolved out of Residential Care for Me – an innovation and quality improvement initiative created by residential care leaders to address feelings from staff that resident complexity was increasing and that they weren't able to keep up. In order to identify the root cause of the problem, Residential Care for Me used human-centred design to truly understand the experience of those who live, work and visit our homes. Following months of insight gathering, ideation and testing, it became clear that something creative was needed to shake loose the institutional routines that were acting as barriers to transformative change.
Enter Megamorphosis.
Megamorphosis aims to increase the engagement of each resident by focusing on the following principles: emotional connections matter most, residents direct each moment, and home is a feeling. Some of the ideas that have been tested include getting to know the life stories of residents and using that information to help personalize their own spaces, having the "stuff of life" available so that residents have access to things to do any time of the day, and making staff space invisible, such as the transformation of the nurses' station into a Chinese tea house at Mount Saint Joseph.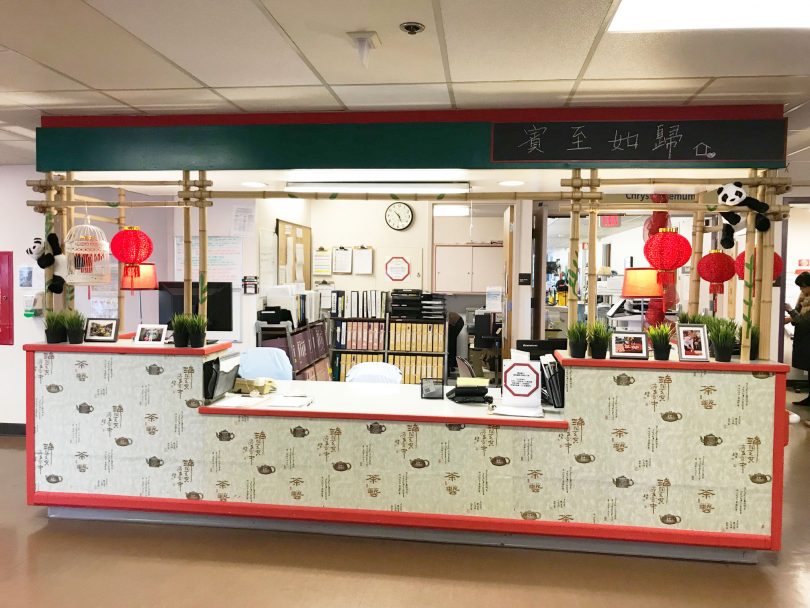 "It is a huge honour for PHC and Megamorphosis to win this award. We are immensely proud of the work that we have done and particularly for the fact that it is a home-grown initiative that has worked hard to honour the voices of our residents, staff and families," says Jo-Ann Tait, Corporate Director, Seniors Care and Palliative Services. "To be recognized at a national level is both humbling and motivating as we continue on this journey and hope to make a difference in the long term care sector as a whole."
With four out of five residential care homes now having experienced Megamorphosis, PHC has seen sustained increases in positive and social emotional connections between staff and residents, increased personalization of resident spaces, and increased resident engagement in everyday activities.
"The most rewarding part of this program for me is seeing the joy on the faces of residents and staff and getting to connect with them as individuals," says Sonia Hardern, Performance Improvement Consultant. "As a non-clinical person, being in the thick of things and helping residents find joy in their days is very fulfilling.  At the same time, we have seen staff really flourish with the introduction of Megamorphosis. We often hear comments like, 'I've always wanted to do this but didn't know if I had permission.'"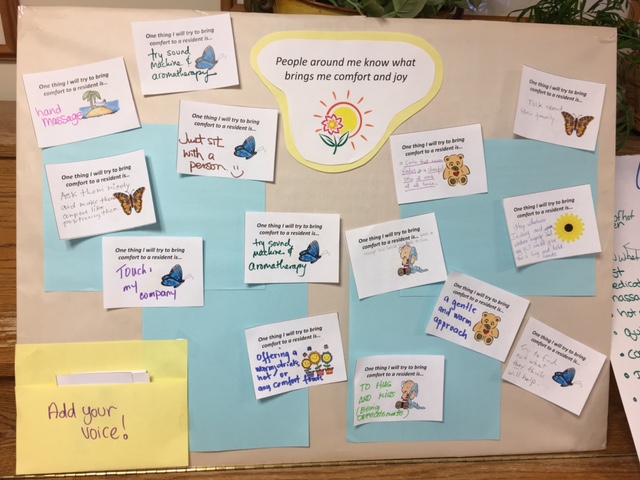 Megamorphosis is part of the larger vision for the redevelopment of our residential care homes. Rather than waiting for the construction of new buildings to transform care, Megamorphosis allows for the testing and implementation of this future model of care in anticipation of building dementia villages, inspired by best practices across the world. Megamorphosis allows us to prototype concepts and ideas, resulting in more effective planning and implementation of the future vision.
The prestigious 3M Award that will be presented to Providence Health Care representatives at the National Health Care Leadership Conference in Toronto in June.