The path to a multiple sclerosis (MS) diagnosis isn't always a straight line but thanks to St. Paul's Hospital's (SPH) neurology rapid access clinic and team of neurologists – including resident MS expert, Dr. Ana-Luiza Sayao – there's a better chance of getting into the fast lane for testing and treatment.
According to the MS Society of Canada, MS is currently classified as an autoimmune disease of the central nervous system (brain, spinal cord). The disease attacks myelin, the protective covering of the nerves, causing inflammation and often damaging the myelin.
During a recent Dateline NBC interview, actress Selma Blair, 46, revealed the challenges she faced in getting a diagnosis:  doctors who did not take her seriously and told her she was hormonal, exhausted from being a single mother, premenopausal, and postmenopausal. Her requests for testing were constantly rebuffed.
Closer to home, it's not uncommon for MS patients with frightening neurological symptoms to go undiagnosed for years. Due to a lack of a neurology rotation at medical school, most well-intentioned GPs are not well versed in it or other brain diseases.
Worsening symptoms, wrong treatment
Five years ago, when Taylor Richardson first experienced numbness in his left forearm that moved up his arm and into his leg, he visited a clinic and was prescribed an arm brace. He knew intuitively it didn't address the real problem. Months later, he visited SPH's emergency where he was examined by a neurologist. It was there that he heard, for the first time, the term MS.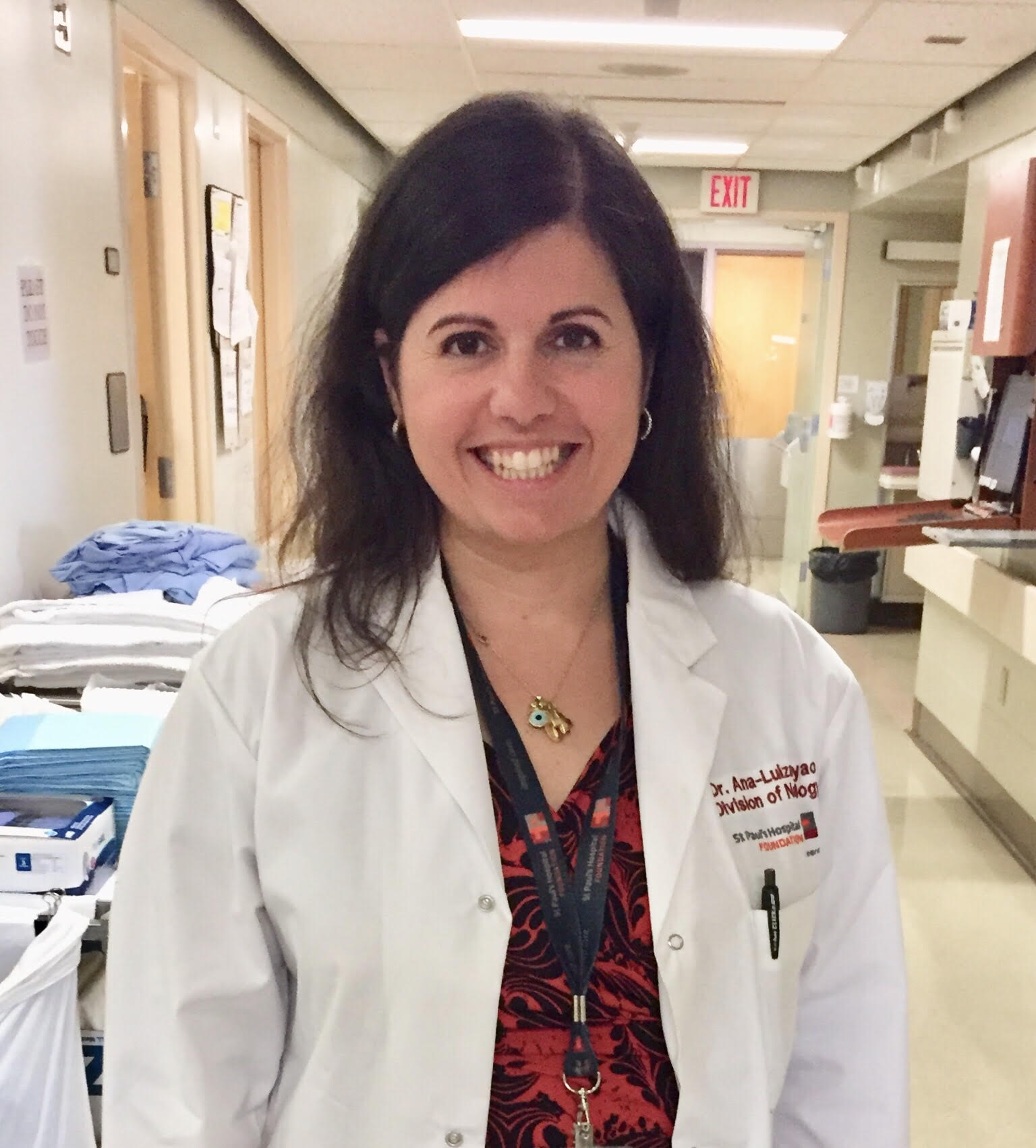 He was sent for an MRI and then a spinal tap. A week later, he saw Sayao who confirmed his diagnosis.
"It's the moment when you realize you are not bulletproof," said Richardson, a sales professional with Russell Lighting. "I've since learned to take things slowly, exercise and eat healthily, and try to avoid stress. Of course, they tell you to avoid stress, yet it's the most stressful thing you could ever think of."
Since then, the 32-year-old has transitioned to receiving specialized treatment at the UBC Hospital MS Clinic and is managing his disease. In retrospect, his visits to SPH's emergency proved to be a much better prescription than the aforementioned arm brace.
Fast, effective relief from lack of diagnosis
Sayao, who is SPH's human gateway to MS treatment, says that patients with concerning neurological symptoms who are seen in the emergency departments of SPH and Mount Saint Joseph Hospital may be referred to SPH's neurology rapid access clinic by the emergency physician. Patients are typically seen within one to two weeks from date of referral.
"We provide a timely examination and ultimately expedite access to the best MS care – usually to one of the MS clinics in the area such as at UBC Hospital or Burnaby Hospital," said Sayao who previously ran the neurology rapid access clinic and currently works at SPH and the UBC Hospital MS Clinic.
Impact of MS unique to each patient
At SPH, Sayao sees patients from all walks of life, including from the DTES and patients also under treatment for addictions. She recounts one sad situation in which a patient presenting with ataxia – the loss of full control of bodily movements – turned up at SPH emergency, was admitted and eventually referred to her. With no fixed address, the patient had been sleeping on a friend's sofa, and knew nothing about the health services available.
"This individual completely lacked the basic determinants of health:  housing and good nutrition. Without those, it was very hard to provide treatment," said Sayao.
Thankfully, the patient was connected with a social worker, and Sayao personally helped with an application for CPP disability benefits – a significant step forward which gave the patient a modest but reliable income and the stability needed to undergo treatment.
One of the worst examples of undiagnosed MS Sayao has encountered was a patient who arrived at SPH with poor coordination, slurred speech, weakness and double vision – symptoms that had gone unnoticed for four years. While most cases of MS are of the relapsing-remitting variety, about 10 per cent will have a progressive form of MS as exhibited by this patient.
Get to know more about MS
MS is unpredictable and can cause symptoms such as extreme fatigue, lack of coordination, weakness, tingling, impaired sensation, vision problems, bladder problems, cognitive impairment, and mood changes. Currently there is no cure.
"Multiple sclerosis is a disease that affects people very differently. On average, 11 Canadians are diagnosed with MS every day – and each of those people are experiencing their own unique symptoms," said Dr. Karen Lee, vice president, research, MS Society of Canada.