Injuries and illnesses that are serious enough for immediate medical attention, yet aren't life threatening, can be frustrating.
A sprained ankle or an ear infection needs prompt care, but not necessarily at the Emergency Department, where the waits can be long.
Enter the City Centre Urgent Primary Care Centre (UPCC), intended to get patients the right care at the right time, in the right place.
Aligned with the Ministry of Health, VCH Vancouver, Providence Health Care and the Vancouver Division of Family Practice have partnered to establish the City Centre UPC) in Vancouver's City Centre. The Seymour Medical Group operates the new UPCC through a service agreement with partners.
Just a short distance from St. Paul's Hospital in Vancouver's West End, the downtown UPCC at 1290 Hornby Street opened in November, 2018. And this week, the BC Ministry of Health announced another UPCC in East Vancouver.
The City Centre UPCC, located in the busy downtown core, is a place of calm. It's equipped with 15 examination rooms, a lab, a diagnostics area equipped with an X-ray machine and ultrasound, and stretcher bays. There is also a pharmacy, as well as rapid access to mental-health and substance-use services.
The clinic serves adults and even children who need urgent care. About a third of the patients seen are pediatric cases.
The clinic is staffed by doctors, nurses, diagnostics and lab technicians, Medical Office Assistants and a pharmacist.
Who should come to the UPCC?
It's for those who can't get hold of their family doctor for an urgent issue, but aren't sick or critical enough for the ED. People can visit the UPCC for minor injuries and illnesses such as: sprains or minor fractures, cuts or wounds, an infection, or a mild asthma attack.
It's not designed to act as a family doctor or other care provider who is a person's first point of contact. "We're not trying to replace primary care," says Dr. Afshin Khazei, Medical Director of the City Centre UPCC. "We're trying to strengthen it." That means eliminating care delays that could mean a health or injury is at risk of getting worse.
The average wait for the first point of contact at the UPCC is about 15 minutes, says Dr. Khazei.
Who should not come?
If someone has a life-threatening condition, the Emergency Department is always the place to go. This includes:
Heart attack,
stroke,
major trauma, or
drug overdose.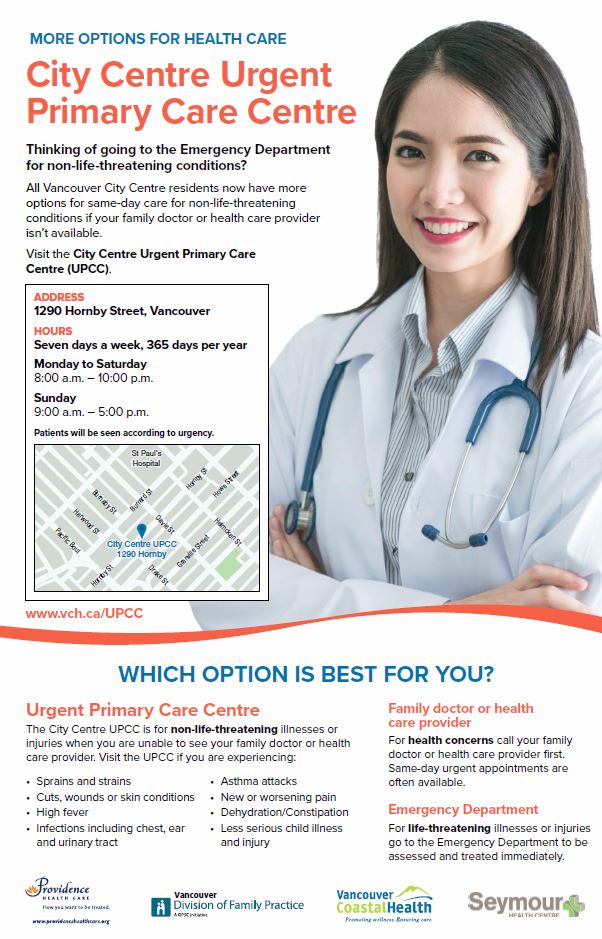 On the other hand, if a person does have access to a family doctor or nurse practitioner as their first contact for non-emergency care, they should try there first.
If emergency care is required, arrangements to transport the patient for emergency care at St. Paul's can be made. "We have a good partnership with St. Paul's Emergency," says Dr. Ana Fernandes, manager of the UPCC downtown. She estimates that about a third of the visitors to the hospital's ED could be treated at the UPCC, thereby reducing the Emergency burden and wait times.
The UPCC can streamline patient care in other ways. If someone receives treatment for a fracture at the clinic, the medical team can arrange for the patient to see an orthopedic specialist at St. Paul's.
Everyone gets seen 
While the goal of the UPCC is to treat serious but not life-threatening conditions, the philosophy is that everyone will be seen – even if they are ultimately directed to a more appropriate level of care for their condition.
"If you have a family doctor, especially to treat a chronic condition, you should visit him or her first. But for urgent issues, we're here for you," says Dr. Khazei.
"We don't turn anyone away."
The UPCC on Hornby Street is open seven days a week, 365 days a year. Monday to Saturday hours  are  8 am to 10 pm. Sunday it's open from 9 am to 5 pm. For more information, visit https://www.citycentreupcc.ca/