"The first time I was called was about a transplant was a year ago, in January. Dr. Landsberg [Physician Leader and Division Head of PHC's Renal Program] said, 'I have a kidney for you.' But I was really sick with a cold at the time and he could hear it through the phone," recalls Peter Hnidan.
Instead of that particular kidney being Peter's, Dr. Landsberg advised him to stay put, get well and that the next one that came up would be his.
For many, getting so close to a new kidney – a new lease on life, a fresh start – only to have it taken away would be too much.
But for Peter and his wife Mary Gregoire, it was simple.
"The way we think is, when the time is right everything will fall into place. That it didn't that time just meant that one wasn't meant for me," explains the resident of Armstrong, BC.
—
"My dad was first diagnosed the late 70's. My youngest sister's first test clearly showed cysts but nothing showed up on my test so everyone thought I was in the clear," says Peter, "But in 1990, I went in to get a physical done and, because of our family history, the doctor reordered the test." This test confirmed it: Peter had hereditary polycystic kidney disease.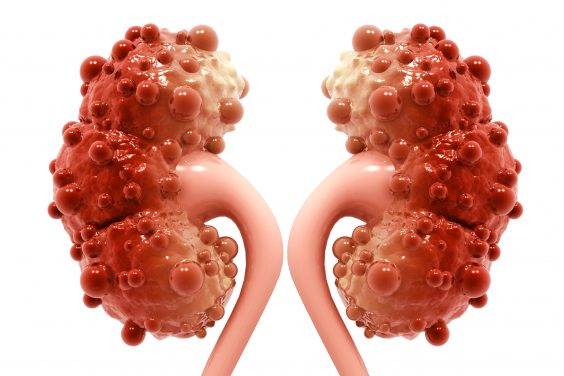 Polycystic kidney disease (PKD) is an inherited disorder where clusters of cysts develop primarily within your kidneys, causing them to enlarge and lose function over time. Cysts are noncancerous, contain in fluid and vary in size. If a cyst gets big enough, they can rupture and cause serious complications, including high blood pressure and kidney failure.
Peter was on peritoneal dialysis, awaiting a transplant, for more than three years.
"As soon as I found out I would be getting a transplant, I started to do mental work around not having my body fight it, to accept the gift of the transplant, and allow my body to thrive with this gift," says Peter.
—
In March 2019, Peter was notified there was another potential donor. He needed to get to St. Paul's the following morning, 10 hours later.
Peter arrived in Vancouver, was prepped for surgery. And then he heard nothing.
"I knew that if the transplant was going to happen, I would have been in already," says Peter. "A member of the surgical team came out, apologized and let us know that the person on life support had survived and that the opportunity for transplant was off the table."
For many this would be yet another devastating blow. Not for Peter and Mary. They saw it as an answer to their prayers.
"I was raised with cultural teachings from my dad and mom and other elder family members," explains Mary. "They also taught me about Catholicism, so I am well rounded with spirituality and walking in a respectful manner."
The couple had gone to the chapel at St. Paul's while awaiting news of the potential donor, and Mary had mentioned to the priest they were there for a transplant.
"Our ask was to pray for the person on life support," recalls Peter. "That person might have a gift of transplant for me but the donor's survival is just as important. Whatever happens to them will deeply impact their family and loved ones, so we've just always known that whatever way it went we would be ok with it."
Peter, who was doing well enough on dialysis at the time, packed up to head home. Before leaving, the nurses on the transplant team told him, "We'll see you soon; we'll get a kidney for you."

They were only ever positive, remembers Peter.

—
What would end up being the call came on a Saturday night in May; Peter was told there was a donor for him and he was to be at St. Paul's by 10am the following morning.
With the help of family and the Okanagan Indian Band, everything was arranged for Peter and Mary to leave the next morning.
Peter's finally received his gift of life the following day, on May 20, and he was discharged five days later.
During those five days, St. Paul's become a spot that Mary affectionately called "St. Paul's Hotel."
"I was allowed to stay in the room with Peter the entire time he was an inpatient. For this I am most grateful," remembers Mary. "To be with Peter at such a crucial time and to be so welcomed and treated respectfully by all of the staff – I cannot express enough appreciation for being given a bed, linens, towels, soap, water and use of the showers."
—
Peter and Mary had to stay in Vancouver for follow-up care for more than two months. During that time, the couple connected with St. Paul's Indigenous Health and Wellness Team. It was instrumental to recovery for both of them.
"The Indigenous Health and Wellness Team is the most caring, compassionate and welcoming group of people who provided us connection to much-needed cultural support, stories, humour, talking circles, elders, food, drumming, singing and prayers during that time," says Mary. "As a couple, we also saw the team outside of the Tuesday talking circle group; they listened and gave more cultural knowledge and support when we were feeling sad or worried. They connected us with who we are – Indigenous – and to be with our people when we were so far from home and undergoing very stressful procedures/steps, and not having family close or able to visit us. They became our family."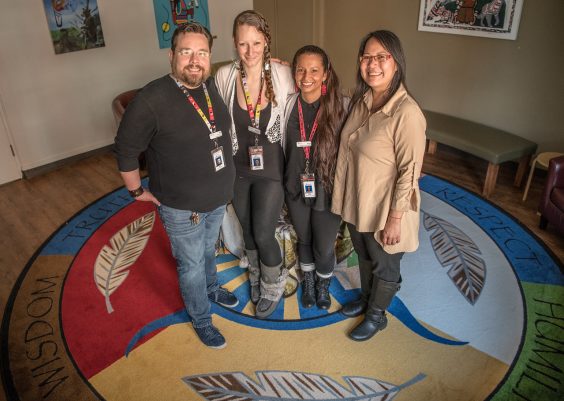 Reflecting on Peter's transplant and the post-op care that followed, there are a few things that rise to the surface about that time with both St. Paul's transplant team, and the Indigenous Health and Wellness team.
"I felt like we didn't need to worry about anything," says Peter. "If Mary mentioned something to the transplant team, the response was immediate."
"Every member of both teams knew our names. They saw us and heard us as a whole person versus just a face," recalls Mary. "The care, compassion, willingness to listen and honest upfront information really stood out to me."
—
Heading into holiday season has given the couple pause about what their first Christmas with a new kidney means to them both.
"I'll be able to spend more time with family and not have to leave to begin the dialysis," remarks Peter. "I have more energy to do a bit more versus having to stop and get my breath as often as I used to."
"We have another Christmas together! What a change from last Christmas when Peter was on a picc line to treat a sepsis ankle, which was related to the kidney disease and dialysis. He was quite fragile then and sure looked it," reflects Mary.
Peter's transplant, and the donor and their family who made it possible, are gifts that they are forever thankful for.
"We pray every day for the gift Peter has received, and that we have each day. We still do our spiritual ceremony and go to church and the prayers always include the donor and the donor's family."