In the 1975 film adaptation of One Flew Over the Cuckoo's Nest, the character of Randle McMurphy, played by Jack Nicholson, is sent for electroconvulsive therapy as punishment for his rebellious behaviour at the psychiatric hospital where he's serving his jail term. The scene is difficult to watch – McMurphy is physically restrained by a crowd of aides as his body convulses in a stream of violent seizures.
If film depictions such as this are your only insight into electroconvulsive therapy, or ECT, you might be led to believe the procedure to be cruel, barbaric, and have no place in modern psychiatry. But ECT is a surprisingly effective and common treatment that, in reality, looks nothing like what you've seen on the screen.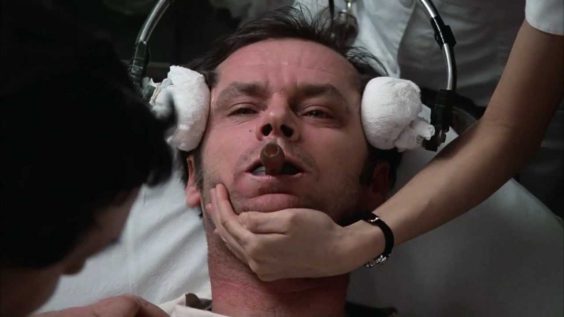 "Stigma has long played a role with psychiatric illness and with psychiatric patients," says Dr. Kevin Smith, psychiatrist at St. Paul's Hospital. "ECT has been portrayed in media as a horrific, undignified and punitive procedure. Given that platform of promoting a scary procedure, it is no wonder that it has caused fear and stigma."
ECT was developed in the 1930s and gained popularity as a treatment for psychiatric illness in North America in 1940. At the time, ECT was delivered without anesthesia or muscle relaxant and used a much stronger electrical current than what is used today. As a result, it wasn't unheard of for a patient to break their teeth or bones.
What does ECT look like today?
Nowadays, patients are anesthetized and given a muscle relaxant before electrodes placed on the head transmit a series of mild pulses that induce a controlled seizure lasting anywhere from 20 to 60 seconds.
"The main benefit of modern ECT is the use of a paralyzing medication," says Dr. Smith. "This means that the patient will only have a brain seizure, not a motor seizure, so there is very minimal body movement – maybe just a slightly twitching toe. We use bite blocks so teeth, tongue and soft tissues of the mouth are protected."
Within 10 minutes of the procedure finishing, patients wake up and begin responding to nursing staff. Staff monitor vital signs and once a patient has met the criteria for leaving the treatment area, most are discharged home accompanied by a responsible adult within an hour or two.
"I often equate ECT much like going to the dentist," says Dr. Smith. "Few people feel relaxed about going to the dentist, yet it is entirely manageable and in the end, not an entirely unpleasant experience. ECT is kind of the same."
At Providence, ECT is performed as part of both inpatient and outpatient treatment programs at St. Paul's and Mount Saint Joseph Hospitals. Many clients from Parkview, Youville's program for older adults with dementia and complex behavioural and psychological symptoms, also receive ECT at MSJ.
The most common diagnoses of patients who receive the treatment are major depression, depression due to other neurologic conditions such as Parkinson's disease or Alzheimer's disease, as well as bipolar disorder and schizophrenia. While medication is typically the first line of treatment for these kinds of illnesses, ECT is particularly useful when there's a need for rapid response, such as when a patient is suffering from suicidal thinking, severe loss of appetite or acute psychotic symptoms. Patients with a history of poor response to medications may also choose ECT as a next line of treatment.
A typical course of treatment runs an average of eight to twelve sessions, with some patients returning for maintenance procedures for several months or years.
Why does it work?
Well, no one knows, exactly.
"We also don't really know how or why medications or psychotherapy work," says Dr. Smith." We can see with specialized brain imaging, that ECT affects various chemicals in the brain in much the same way as medications and psychotherapy. We know that serotonin, norepinephrine and dopamine are likely involved in the improvement."
The success rate for reducing symptoms of depression is somewhere around 60 to 90 per cent, with elderly people seeing success rates closer to 80 to 90 per cent. Again, the reason for success with older patients isn't yet fully understood.
"All depression is thought to be of a complicated bio-psych-social origin, but as we get older, it may be that the biologic component increases and hence response to treatment with ECT improves," says Dr. Smith.
But is it safe?
ECT is actually an incredibly safe procedure. There is no age limit for elderly patients, and ECT is considered to be safe throughout all trimesters of pregnancy. In fact, there's less risk to the fetus with ECT than in treatment with most psychotropic medications.
The most common side effects are headaches and muscle aches, however these occur in less than half of cases. Short-term memory loss over the course of the treatment can occur, but is time-limited – within several weeks of completing a course of ECT, memory reverts back to its original baseline.
Regaining quality of life
When ECT was suggested as a potential treatment for Mr. P's father a little over a year ago, his family was initially very apprehensive.
"My dad had experienced ECT 50 years ago and it was an intense and painful treatment back then," says Mr. P.
His father had been an inpatient at Mount Saint Joseph Hospital for a number of months and the treatments and medications had been unsuccessful in helping him progress in any significant way. Staff at MSJ provided Mr. P and his family with an educational video that showed how the treatment had evolved, and was now significantly different, from the early years in which it was used.
"Only when my dad started with ECT did we see a consistent positive change," says Mr. P. "He was able to come home and continue treatments less frequently. And now after over a year since starting ECT, he has been treatment-free for three months and he is currently doing well."
While Mr. P's father may continue to need periodic treatments in the future to maintain wellness, his recovery has been significant.
"I can't say enough good things about the staff at MSJ," says Mr. P. "The doctors, nurses, other health care professionals and support staff are amazing. Their focus was patient and family-centered and we felt so very grateful for the care and support they gave my dad, my mom and myself. ECT has given my dad so much of his quality of life back and we are very grateful."
Integrating care and research
For nurse Elena Gromov, her 17 years working in Outpatient ECT – first at St. Vincent's Hospital and now at MSJ – have been incredibly rewarding.
"I feel extremely grateful to work with such a dedicated group of health care professionals that are so committed to providing the best care possible to our patients," says Elena. "The best part of my job is the opportunity to provide continuous care and support to patients their family members."
ECT, like most health treatments, is continually under research to explore ways to improve patient outcomes and limit negative side effects. In her role at Providence, Elena has supported several research studies on ECT including the Electrode Placement Study which compared the effectiveness of the treatment with different placement of electrodes, and to evaluate possible cognitive side effects.
"It's been a privilege to be involved with research, and to share my knowledge of ECT with other health professionals and students who come here on practicum," says Elena.
Breaking the stigma
The way our society views psychiatric illness and treatments is still unfortunately stigmatized, but it is improving.
"With more and more celebrities being willing to publicly discuss their journeys, it has been quite helpful in trying to combat the stigma" says Dr. Smith. "Ongoing education and public awareness is also important."
So if you or someone you love is considering electroconvulsive therapy, stick to the facts and leave Hollywood's outdated depictions on the screen.
Wednesday, January 29 is #BellLetsTalk Day. Dedicated to moving mental health forward in Canada, Bell Let's Talk promotes awareness and action with a strategy built on 4 key pillars: Fighting the stigma, improving access to care, supporting world-class research and leading by example in workplace mental health.