Two women settle into a wooden park bench – one of them is holding a baby wrapped tightly in a blanket, and she softly coos and rocks the little bundle. Behind them is a sunlit park blooming with tulips and trees, and off to the left stands Lumberman's Arch. Nearby, a woman with long hair picks up a guitar and begins singing, "I can see clearly now, the rain has gone…" as a crowd of twenty people gather and join together in song.
It may be the middle of winter, but the Stanley Park neighbourhood at Holy Family Hospital is in full bloom thanks to Providence's sixth Megamorphosis transformation.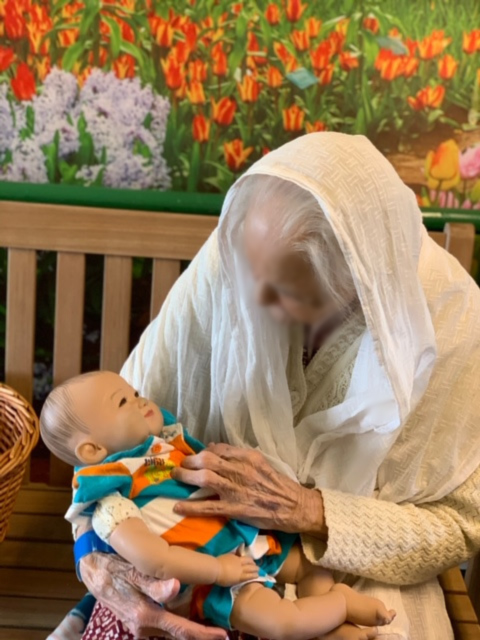 Megamorphosis is our movement to transform our long term care homes from a traditional model to a social model of care, through an intensive period of rapid-cycle testing of ideas during which staff, residents and families co-create and changes together. This resident-centred approach emphasizes building relationships and emotional connections with our people by getting to know each person's life story and what brings them joy. The result is a transformation of not only the physical space, but also of the people who live and work there.
"At first, the staff here were a little uneasy about such a big change and they were a little unsure of what to expect," says Liz Sekulic, clinical nurse leader for Stanley Park. "But then we could really see the change in them as they got excited and started taking things on themselves, and feeling really proud of themselves for the things they accomplished. And all they really needed was permission and some support."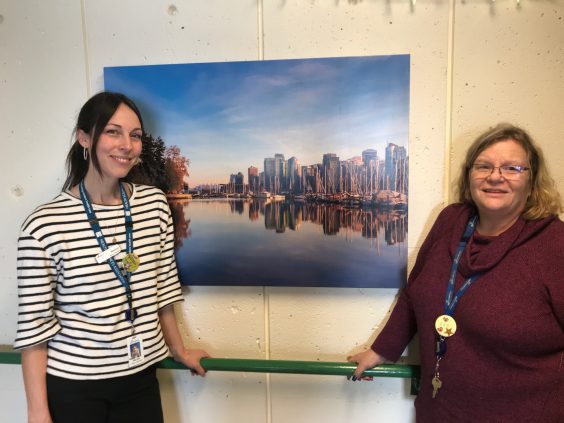 The Care Aides at Stanley Park led the charge with much of the visual transformation, which included lush greenery, park-themed artwork, wooden benches and gathering spaces, twinkle lights reminiscent of the Lions Gate Bridge, and lots and lots of brightly coloured paint.
"We've done a lot with the space," says Liz. "This is a really long hallway and it was a very sterile-looking, so just the environmental change has been huge. It's a much warmer space and it doesn't look so institutional now."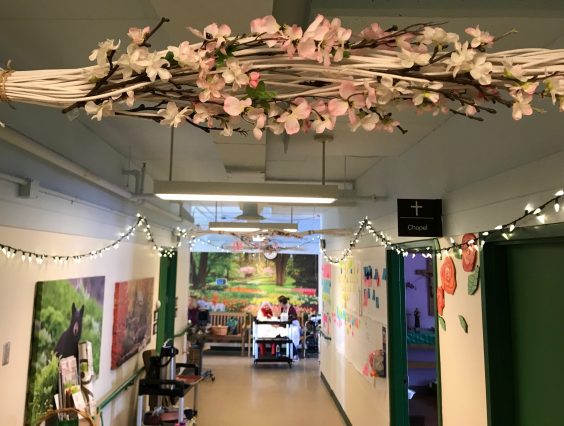 The bright colours are intended to help activate the residents. "As we get older, colour discrimination reduces. In elders with dementia, that's exacerbated, so we want bright colours – yellow, teal – that really call their attention," says Rae Johnson, site leader for Holy Family long term care.
The physical transformation is remarkable, but for the staff at Stanley Park, the real joy has come from seeing the residents – many of whom live with dementia – begin to engage with the environment, the staff and each other in ways they never have before.
As part of the Megamorphosis pre-work, each resident was interviewed to find out what interests them and what brings them joy. Penny, a longtime resident, asked for a Scrabble board.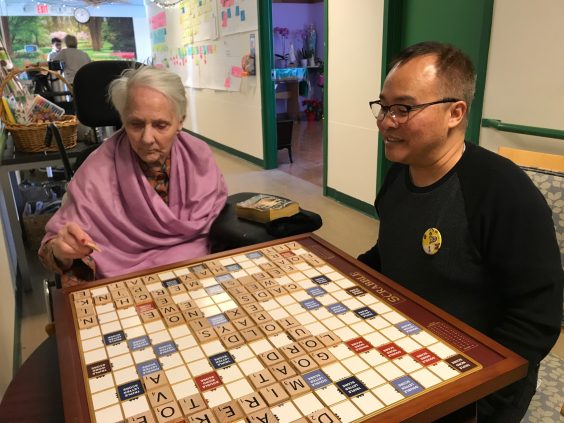 "She often doesn't want to get up," says Liz. "We have a lot of people who are choosing to stay in bed, but are they choosing to stay in bed because there's nothing that's motivating them to get up? So Penny is up now and playing Scrabble and kicking everyone's butts!"
While some resident wishes were easy to incorporate in the Megamorphosis design, others shared some decidedly bigger dreams – including wanting to attend a live wrestling match or going on a trip to England. This led the team at Holy Family to wonder…well, why not? So thanks to these big dreamers, the Stanley Park Megamorphosis includes a new feature: the "Mega-wish", where staff will endeavour to find ways for residents to realize big dreams that may have been seen as impossible or audacious in pre-Megamorphosis life.
Previous Megamorphosis transformations have taken place at Youville's Marguerite Place and Heather Place neighbourhoods, Brock Fahrni's Orange neighbourhood, Mount Saint Joseph Residence's Plum neighbourhood; and most recently at Holy Family's Hollywood and Gastown households. For Rae, now on her second Megamorphosis, it's all about expecting the unexpected. "I went into Megamorphosis at Gastown and Hollywood with a couple residents in mind who I thought would really benefit – and they did – but a few other residents really shone that I wouldn't have anticipated. What we learned was that there's more engagement than you might even think there could be – beyond what you might even hope for – once you realize that you just need to find the way in."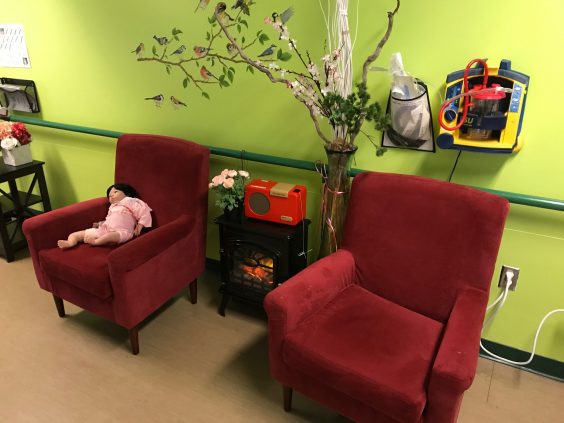 While the intensive change cycle has now come to a close at Stanley Park, the work is far from complete.
"The things I really hope to carry forward is how we look at how we care for our residents, and how we approach our jobs – being more curious," says Liz. "We need to create things for people to want to get up for."