Dr. Jennifer Wide, psychiatrist at St. Paul's Hospital, writes about the importance of language when it comes to mental health. While her message is directed towards health care professionals, we can ALL be more mindful of the words we choose to use.
---
Language is important. We ought to be aware of the language that we use with and about our patients.
A population that is particularly vulnerable to stigmatizing language is those individuals living with mental illness.  This includes a broad spectrum of individuals as one in three Canadians (9.1 million people) will be affected by a mental illness during their lifetime and every year one in seven Canadians use health services for a mental illness.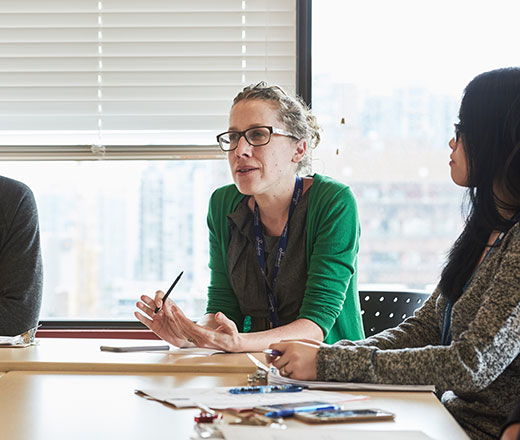 Yet upwards to 60 per cent of the public do not seek help for fear of such language; of being judged or labelled. Recent movements to reduce stigma have gained momentum. Nationally, the award-winning Bell 'Let's Talk' campaign has become the single largest campaign to reduce stigma associated with mental health. Here at St Paul's, the Department of Psychiatry initiated the 'Change the Labels' campaign to help reduce the shame associated with mental illness. 
We, individually, however, have a role in modelling appropriate language.  The Canadian Mental Health Commission acknowledges our social responsibility to spread non-stigmatizing language and who, if not medical health professionals, should be at the forefront of this?
I am a psychiatrist working in the acute and community care settings. I work with individuals who live with severe and persistent lifelong conditions, significant trauma, challenges with self identity and substance use. I like to believe that I am aware, or have been made aware through trial and error, of the use of appropriate language; however, as I took pause to reflect on my use of language, I caught myself still using dated terminology.
Habits are hard to break but I believe that we all have a responsibility to adapt our language. In fact, I would argue that recognizing and amending a poor word choice has greater implications for patient-health professional relations than many other clinical interventions. Just have a look at the recommended alternatives of common phrases below and ask yourself how this subtle change in word choice can change an offensive or demeaning language into a validation of the patient's experience. Through the act of pausing to reflect and the conscious choice of using preferred terminology we both model appropriate language and create a stronger alliance.
Let us all be more mindful of the language we use.
-Dr. Jennifer Wide
References:
– Canadian Community Health Survey: Mental Health, 2012
– Public Health Agency of Canada, 2015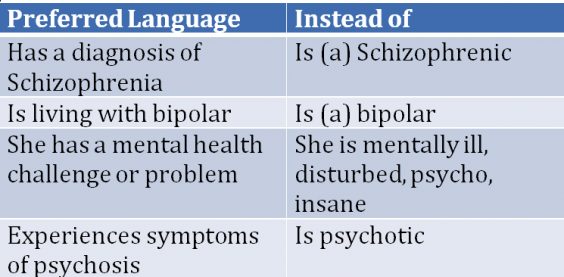 Source: American Psychiatric Association
Wednesday, January 29 is #BellLetsTalk Day. Dedicated to moving mental health forward in Canada, Bell Let's Talk promotes awareness and action with a strategy built on 4 key pillars: Fighting the stigma, improving access to care, supporting world-class research and leading by example in workplace mental health.
This year's campaign features eight outstanding Canadian organizations who are taking action by providing supports and services to make a difference for people experiencing mental health challenges.
Foundry is one of this year's featured organizations. Learn more here.