Lindsey Walshe, a registered nurse at St. Paul's Hospital, and Dr. Merry Gong, an obstetrics and gynaecology fellow, recently shared their experiences of becoming mothers and celebrating life amidst a global pandemic on Mother's Day.
Celebrating motherhood
Mother's Day this year will feel a great deal different for many. This celebratory day will be spent unlike any others preceding COVID-19 – physically distant – and is another reminder that life is far from normal.

Amongst those most heavily impacted by this global pandemic have been new mothers. With the rise of COVID-19, significant changes are taking place within maternity, labour and delivery wards where both babies – and mothers – are born.
Before the storm
Here at St. Paul's Hospital, our health care teams have done an incredible job of readjusting regular practices, procedures and methods to battle a deadly virus while providing care to our patients. Someone who's been able to be at the forefront of both combatting COVID-19 as well as experiencing care as a patient has been Lindsey Walshe, a new mom and a St. Paul's Maternity nurse.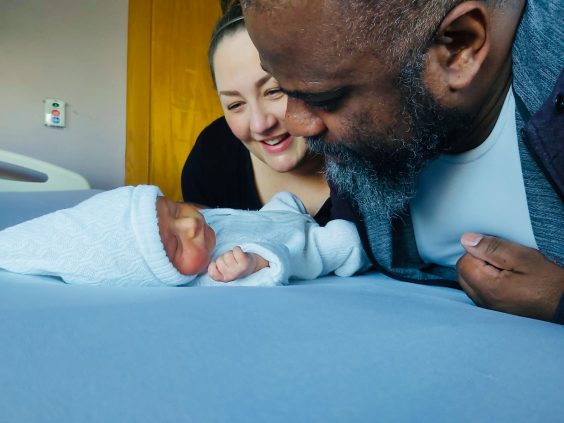 "I saw what was happening in Wuhan, China back in January but I hadn't given it much thought as to how it could potentially affect me," says Lindsey. "There was a lot going on in my own pregnancy at the time, so my focus wasn't on what was going on in the world at that very instance. Little did I know, what was happening on one side of the world would soon directly impact me in many ways."

Things soon took a turn for the worse in early February when COVID-19 hit Canada. "In those earlier days of COVID-19 when I was still working in the Maternity Unit at St. Paul's, we were still in the planning stages of what would be the game plan if patients started turning up with the virus. I think in hindsight, we were all still a little bit naive about how serious the whole situation would become," says Lindsay. She soon left work due to maternal complications from her pregnancy and focused her attention on her own health while supporting her colleagues before her departure.
A new way of accessing health care
Those who encounter the health care system are experiencing a new way of accessing care. As an expectant mother, Lindsey noticed the immediate changes firsthand in late February. "I had my first experience as an 'Outpatient' in our Foetal Monitoring Clinic, a place dedicated to test for weekly foetal well-being. Nurses were wearing full PPE to perform patient care andthe appointments now took over an hour when previously it would have taken 30 minutes. I also began passing security and proceeding to meet a hospital staff member holding out hand sanitizer and letting them know where I was headed to and what my purpose was in coming into the hospital for each appointment. Things were no longer what I had become accustomed to over the past 18 years of working at St. Paul's as a nurse and as a patient."
A unique perspective amidst uncertainty
Lindsey wasn't the only one experiencing the changes as both the giver and receiver of care. Dr. Merry Gong is a Fellow in Female Pelvic Medicine and Reconstructive Surgery in the Department of Obstetrics and Gynaecology at St. Paul's and became a mother to daughter Olivia on April 25, 2020.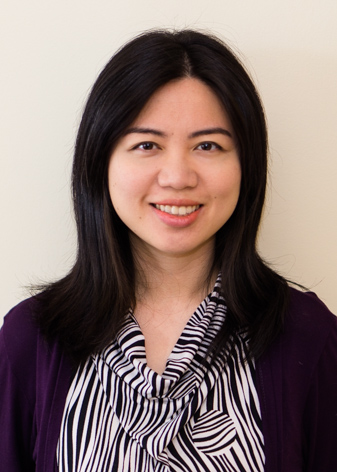 "As a health care provider and an expectant mom, I was in a constant struggle between providing care for my patients and protecting my unborn child from the uncertain consequences of COVID infection on pregnancy," says Dr. Gong. "I was more relieved after we converted to mostly virtual visits with our patients."

Dr. Gong, who mainly works with elderly women with pelvic floor dysfunctions, had to temporarily cancel outpatient clinics and elective surgeries, with only urgent cases seen in-person. Since seniors are at the highest risk for severe illness from COVID, they have been reluctant to seek help during the pandemic. Even when they are seen, treatment options are limited, which is frustrating for patients.
Labour & delivery experience
Only a couple of days after the birth of her baby boy, Lindsey reflects on her labour experience and how COVID-19 impacted her pregnancy and delivery. "Having a baby during COVID-19 was drastically different from what I had hoped my birth experience would be like – I had hoped that one day, my extended work family would be right by my side coaching me along the way, but that was impossible given these times. But the team at St. Paul's Maternity Centre did everything imaginable to make our eight day stay phenomenal despite the pandemic. My son Grayson received the best of the best!"
"There was always a doctor, nurse or auxiliary staff member providing us with everything we needed despite the effort it took to make it happen. These little things were what made my birth experience better than I could have imagined."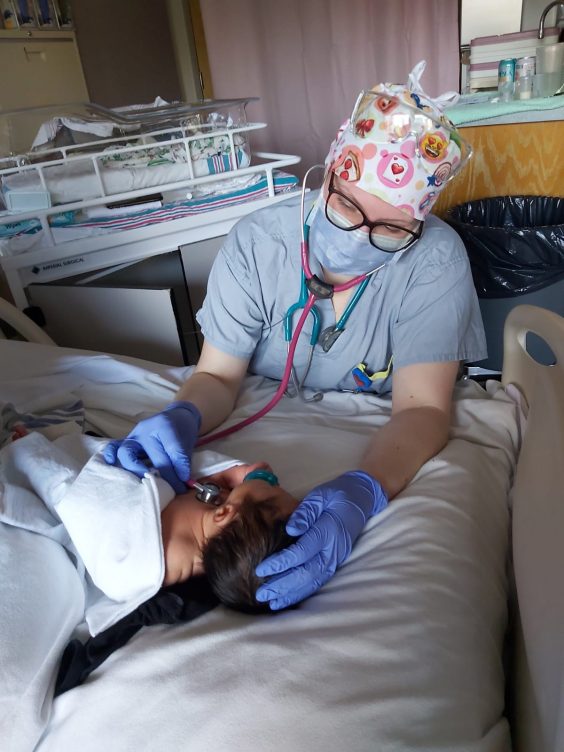 Dr. Gong, too, had "a wonderful birth experience" despite the pandemic. "The maternity unit implemented precautions including limiting the number of support persons, staying in our own room during admission, and avoiding going in and out of the unit. Other than these changes, the support and care I received in labour, delivery and the postpartum period was no different from before COVID, and I felt safe."
Current situation and returning to a new normal

To date, COVID-19 has managed to spread and infect over 5.5 million people around the world (statistics recorded on May 8, 2020). Canada alone is currently facing more than 65,000+ confirmed cases and over 4,000 deaths due to COVID-19. And while the dedication to social distancing, attention to personal hygiene, and restrictions on social gatherings, visitation and businesses have paid off so far, it's clear that things won't return to normal, including our past ways of accessing health care services.

"It is reassuring to know that there is currently no evidence that pregnancy increases one's risk of getting COVID-19," says Dr. Gong. "Also, there is no evidence to suggest the virus can be transmitted to the baby during pregnancy or through breast milk. Nevertheless, our health care providers and institutions are doing everything they can to minimize patients' risk of COVID infection without jeopardizing high quality prenatal, intrapartum and postpartum care."
---
A huge thank you to our frontline health care workers and essential staff who commit to providing care to our patients day in and day out. Your work, commitment, and bravery does not go unnoticed – thank you. Lastly, congratulations to new mothers and expecting parents in light of Mother's Day and wishing you all the best during your new journey ahead!