Almost overnight, the landscape of the Intensive Care Unit at St. Paul's Hospital changed.
As COVID-19 patients started to arrive, four-bed wards were quickly converted into individual negative pressure rooms. The usually smiling faces of the ICU team disappeared behind the protection of goggles and masks and the unit became a sea of yellow gowns and blue face masks. Families, such a crucial physical element in the healing of their critically ill loved ones, were no longer allowed inside.
For Bernadette Howell, a spiritual health practitioner on the unit, the shift in environment meant a shift in her work. Usually, as patients in the ICU are largely sedated and intubated, her primary role is to care for the visiting loved ones who are entering a critical care environment that is so alien and frightening to them.
"In the early days of the pandemic, instead of caring for loved ones and family members, I was connecting and caring for staff who were feeling anxious and fearful of what was happening and what was to come," says Bernadette.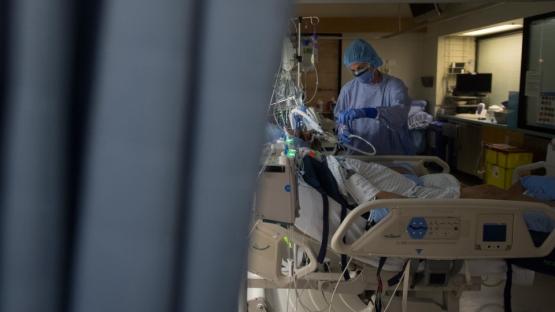 A compassionate presence to all
The purpose of the Spiritual Health team at Providence is, in effect, to be a compassionate presence to all who walk within our halls. Although Providence Health Care is Catholic-faith based, the spiritual health care provided by the team is available to all and knows no religious denomination.
Over the years, the Spiritual Health program has changed and adapted to reflect the wishes and needs of our patients and clients. Staff are no longer exclusively pastoral chaplains but spiritual health practitioners who come from a variety of backgrounds and provide care at all of Providence's sites. In life before COVID-19, that support could be a prayer, a ritual or a conversation about life, illness, vulnerability and grief. It could include poetry or art. It could also be going for a walk around the rooftop garden or an activity done with family. But the virus has made many of those things off-limits.
"Our range of practice and our delivery of care is certainly very different these days," says Bernadette. "It's a challenge to care compassionately from six feet away and non-verbal communication through facial expression is sorely compromised."
Virtual connections
The physical barriers were never more challenging than when families had to say their good-byes through a glass partition or via FaceTime, but the care team rose to the challenge.
"We're still providing care with the help of iPads. Care with the barrier of protective gear. Care outside the hospital doors for those not allowed into the hospital, and supporting grief and mourning via technology," says Bernadette.
The team at St. Paul's even created a virtual online memorial intended for anyone who is grieving loss, especially with social distancing in place.

At Holy Family Hospital's Rehab Program, much of spiritual health practitioner Anne Tuppurainen's work also revolves around organizing virtual meetings and supporting the hospital's rehabilitating stroke survivors to communicate with their family and friends virtually.
Together while apart
Upstairs at Holy Family's long term care home, many residents struggle with the sudden absence of their families. To help support connection and ease loneliness, staff set up three designated windows for residents to see and visit with their loved ones.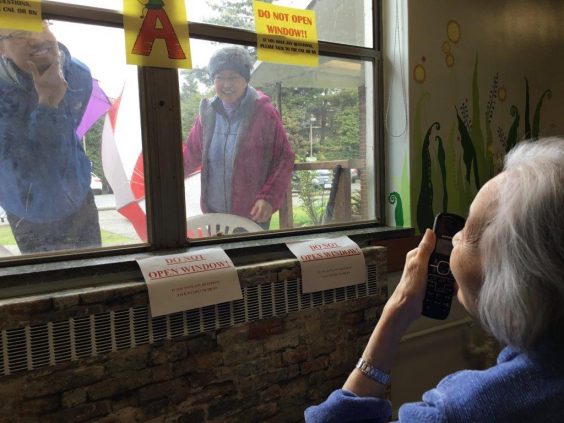 Outside, visiting families sit on newly constructed patios while connecting with their loved one through the window. Built by Holy Family's maintenance crews, the patios provide a level surface and a railing for safety and easy accessibility.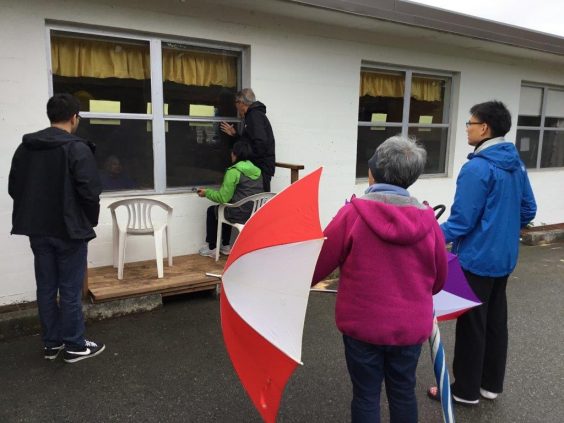 The daily news announcements over the PA system at Holy Family have also helped bring people together. Organized by music therapist Melissa Donaldson, the activity encourages resident participation.
"Our residents and staff take turns introducing the weather, telling a joke or story and singing a song," says Cecilia Moore, spiritual health practitioner. "It is great fun! My turn is on Sunday and I facilitate a prayer and singing."
Staff at Langara are also using the PA system to help lift each other up. Each day at noon, Carrie Warkentin and her colleague Nato Wilson host a Spiritual Health break that offers meditations, reflections and poems to inspire the staff and residents during this difficult time.
"It has initiated some great discussions of people's spiritual practices and beliefs, and brought a greater awareness of caring for our spirit," says Carrie. "I've also noticed that residents are reaching out to each other more during this time when their families are not able to visit. When residents are reaching out in friendship and support, it gets us in touch with our spirit, which is always a good thing."
Despite the challenges during this time, there has been a stronger sense of community, thanks in no small part to the support of the Spiritual Health team.
"Gratitude gives back," says Anne Tuppurainen.