While the world adapts to the new normal imposed by COVID-19, a long-term care home on Vancouver Island is moving steadily forward with its investment in hope: a person-centred approach to seniors and dementia care where the cultivation of engagement and joy is a priority.
Providence Living, a non-profit healthcare organization established by Providence Health Care to redefine seniors' care in British Columbia, recently signed a project agreement with Island Health, cementing plans to build in Comox what is believed to be the first publicly funded dementia village in BC and possibly Canada.
Construction of the 156-bed dementia village will take place on the site of the existing The Views long-term care home and the former St. Joseph's General Hospital. Once completed, the dementia village will replace the existing beds at The Views.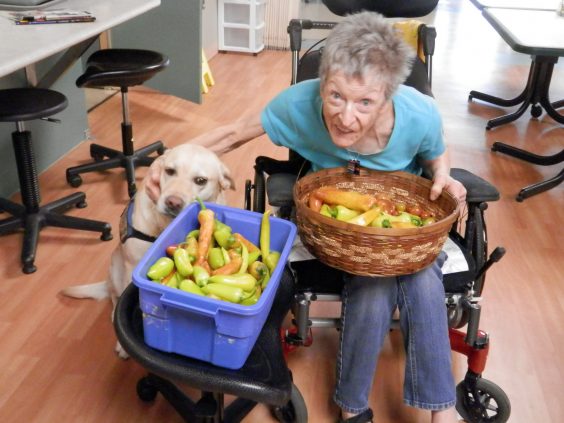 The bricks and mortar of a dementia village
Inspired by the dementia village in De Hogeweyk, Netherlands, the Comox dementia village will have small, self-contained households of 12 residents where each resident will have her or his own room and bathroom, contributing to heightened infection control in a modern space. Smaller groupings of residents will be created based on cultural bonds, friendships and social activities. Residents will take part in everyday activities within the household or wider, secure village, and gain a sense of belonging by being involved in food preparation, cooking and laundry.
Within the village, residents will have freedom of movement, safe access to the outdoors, and interaction with the community, including opportunities for intergenerational connections. Amenities will be available that are actual destinations and points of interest for everyone and their families to enjoy, such as community gardens, children's daycare, art studio, bistro, and chapel. Visitors will be able to drop by and become part of the community, whether that means stopping in for a meal, renting spaces for music instruction, or allowing kids to practice their instruments after school while nearby residents watch and listen.
The future of seniors' and dementia care is already here
But before the first shovel hits the ground – likely in 2021 – a transformation will have been underway for some time within the walls of The Views, reflecting the philosophy of care of the dementia village model.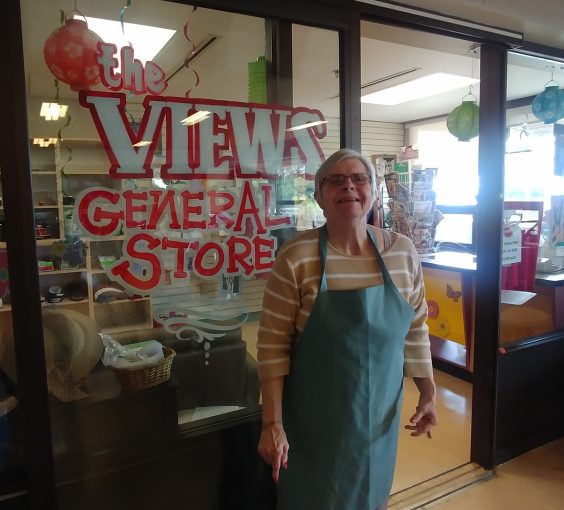 The Views is already incorporating many features of the Dutch model within its current infrastructure. It has integrated aspects of community life – a hallmark of De Hogeweyk – by housing a children's daycare and tutoring service, Thrift Shop, Comox Youth Music Camp, Rotary Book Sales, General Store, and adult day program on the grounds.
"Modelling the traits of a dementia village here in Comox sprang from a desire to change long-term care from an institutionalized medical model to one based on an environment that feels like home for residents," said Jane Murphy, Providence Living president and CEO. "We want our residents to feel connected to their neighbourhood and community. The focus will be on emotional and social connections, and building a community where people truly want to live."

It's the little things that count

The dementia village model ethos is woven into many of the services and daily life activities The Views currently provides to its residents, giving the community a sense of family. Residents get to bake, fold laundry, look after pets, tend to garden areas, work in the General Store, and join art and music therapy programs.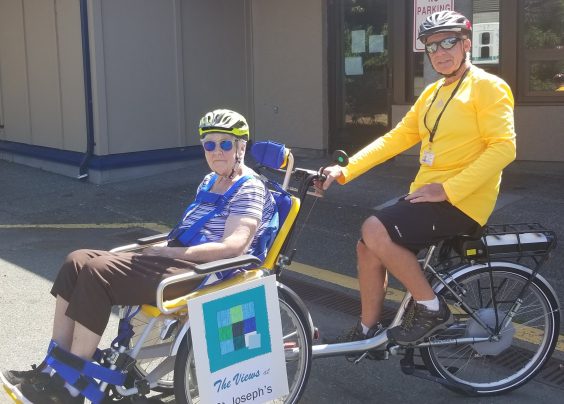 Staff also encourage residents to enjoy the therapeutic quality of the outdoors, especially in a beautiful community like Comox. Residents can go for walks or ride on the Duet Wheelchair Bike Tandem, a tandem bike designed to allow mobility challenged residents to get out for a ride in the fresh air while a staff member or volunteer pedals.

Fostering intergenerational connections

Before COVID-19 restrictions were put in place, The Views had developed a bond with a local school, allowing regular visits by children in the facility who participated in a variety of activities: butter-making (a favourite!); crafts; walks outside; music; art; reading; and games. Residents have become great friends with their "grand-buddies" and look forward to seeing them as soon as COVID-19 restrictions are eased.
---
About Providence Living: Providence Living is a new faith-based, non-profit healthcare organization established by Providence Health Care to redefine our collective expectation of seniors' care in British Columbia. Supported by St. Paul's Foundation, Comox Valley Healthcare Foundation, and Auxiliary Society for Comox Valley Healthcare, Providence Living honours every life story, and believes sharing life stories inspires understanding and offers a path to joy.