A research team based at St. Paul's Hospital has received new federal funding to continue investigating the effect of an existing class of drug on COVID-19.
Led by Dr. James Russell, a Principal Investigator at the Centre for Heart Lung Innovation, the team just received $3.5 million from the Canadian Institutes of Health Research (CIHR) for a multi-site clinical trial to study the safety and effectiveness of Losartan – a drug commonly prescribed for high blood pressure and diabetes – to treat COVID-19.
According to the abstract, this study will provide guidance on whether Losartan can be used to limit organ dysfunction and mortality in hospitalized COVID-19 patients, ultimately resulting in better care and outcomes for patients during this global pandemic.
Losartan is in a class of drug called angiotensin II receptor blockers (ARBs), which have been shown to reduce viral load and lung injury in influenza pneumonia.
This funding is part of a federal investment of more than $109 million in COVID-19 research, announced on June 25. Representing the results of a second rapid research funding competition launched on April 23, this investment will support 139 research teams from across the country that will focus on accelerating the development, testing, and implementation of measures to mitigate the rapid spread of COVID-19 and its negative consequences on people, communities, and health systems.
Projects funded through this call build on an initial investment of $55.3M to support 100 research projects on COVID-19 announced in March. The new projects will scale-up existing projects and address the gaps and priorities relevant to the current COVID-19 context.
The below article was published March 24, 2020, shortly after Dr. Russell received his initial funding.
---
ST. PAUL'S RESEARCHER RECEIVES FUNDING TO HELP FIGHT COVID-19
A St. Paul's Hospital researcher is part of a nation-wide team that recently received federal funding to help combat the COVID-19 pandemic.
Dr. Jim Russell, a Principal Investigator at the Centre for Heart Lung Innovation, is leading a team of researchers who received $255,970 in the Canadian Institutes of Health Research (CIHR) Canadian 2019 Novel Coronavirus (COVID-19) Rapid Research Funding competition.
His team will use the funds to investigate whether a certain class of blood pressure drugs can decrease the severity of COVID-19 infection. Things are moving swiftly. Within a few days of receiving the grant, the study had already recruited two patients from the intensive care unit (ICU) at St. Paul's.

"The epidemic grows rapidly and so we need to be in front of it to study patients right from the onset as best as we can so that we can get a large sample size and so that we can understand the full spectrum of COVID-19," said Dr. Russell, a UBC professor of medicine and a member of the BC Coronavirus Scientific Advisory Committee.
Government invests $27M in research
The grant results were announced earlier in March as part of Canada's efforts to learn more about the novel coronavirus and develop tools and resources to combat it. The government invested $27 million to support 47 research teams from across Canada that will focus on accelerating the development, testing, and implementation of measures to deal with the COVID-19 outbreak.
Together, Dr. Russell and other researchers from across Canada will focus on angiotensin II type 1 receptor blockers (ARBs) – a class of drug commonly prescribed for high blood pressure, heart failure and diabetes. In studies of influenza, ARBs have been shown to decrease the viral load and reduce the severity of influenza-induced pneumonia. The research team is proposing the drugs could also work on COVID-19. Examples of ARBs include losartan, irbesartan, candesartan, telmisartan, valsartan, eprosartan and alzilsartan.
"Curiously, the COVID-19 uses the same receptor (ACE2) as several of the influenza viruses (H1N1, H5N1) and the SARS virus," Dr. Russell explained.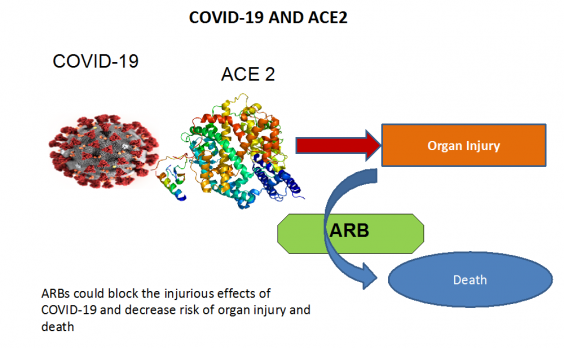 The researchers believe ARBs could decrease the severity and mortality of hospitalized COVID-19 infected adults. Decreased severity would mean less need for ventilation, vasopressors (drugs to raise low blood pressure), extracorporeal membrane oxygenation (machines to add oxygen to the blood if oxygen levels are critically low) or dialysis.
ARBs are inexpensive and available
The study will evaluate the safety and effectiveness of ARBs in COVID-19 in 497 hospitalized adult patients who are or are not already on ARBs across more than 30 sites in Canada. If this study is successful, ARBs – which are inexpensive and clinically available – could potentially be used globally to limit complications and death due to COVID-19.
"Our study nicely complements other studies of anti-viral drugs and vaccines, where other scientists are seeking to discover, test and then launch use of COVID-19 vaccines," said Dr. Russell.
In addition to their primary goal – to see if ARBs limit COVID-19 complications and death – the researchers have a number of other aims. They will also test whether levels of certain biomarkers in the blood predict a better response to ARBs; and they will investigate whether people who are already taking ARBs are less likely to get severe COVID-19.
Due to the rapid and urgent nature of this study, the investigators, including Dr. Russell, have made several contributions from their own research funds. They have also reached out to other funding sources to enable them to address more questions.
---
Q&A WITH DR. JIM RUSSELL

Q: Why are the elderly so adversely affected by COVID-19?

A: It may be more than simply that they are just more frail. There is reason to suspect that the increased risk in older persons is their increased frequency of cardiac disease and the fact that COVID-19 (a.k.a. SAR-CoV-2) binds to a receptor called ACE2 that is fundamental to cardiac disease and treatments.

Q: Why is heart disease such a big risk factor for getting COVID-19 and for dying from COVID-19?

A: We are probing deeper into what I have called the "cardiac triad" of COVID-19. First, the increased risk of COVID-19 in patients with heart disease. Second, the increased risk of acute cardiac injury in COVID-19 patients – fully 24 per cent of critically ill COVID-19 patients get acute cardiac injury. This is much higher than we see with influenza. And third, many cardiac patients are on drugs called ARBs that could also alter complications and outcomes of COVID-19.

Q: You contributed to this study from your own research fund. Why so?
A: I felt a need to contribute to advance our project rapidly and efficiently. Using my own research funds, we were able to go from announcement of our grant success on March 13 to recruitment of our first two patients at St. Paul's on March 17. One of my scientific colleagues calls this "Science at Mach 5!"