George Keulen has a lot of experience with the health care system in B.C. Born with cystic fibrosis, he received a double lung transplant as an adult after a nearly 200-day stay in acute care. George can attest to the importance of an introduction – just ask him about the time he had a 15 minute conversation with a health care worker who didn't introduce themselves or their discipline.
"I thought they were a social worker but about halfway through the conversation it dawned on me that they were actually a dietitian," says George. "There was definitely confusion. Had I known, I would've talked in a completely different direction."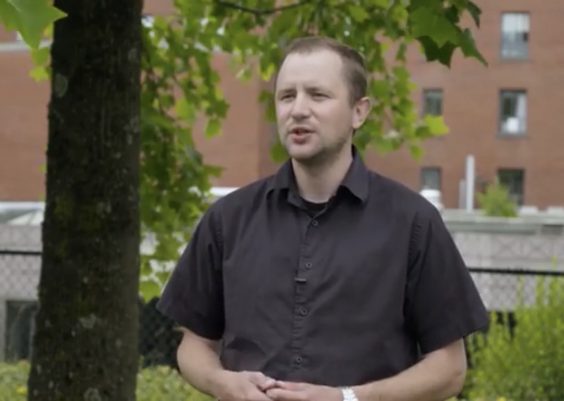 Avoiding miscommunication is just one benefit of a clear and intentional introduction between carer and patient. While it may seem like a small or insignificant act, we know that an introduction makes a tremendous difference in the experience of care for our patients, residents, clients and their families.
Joining the movement
That's why Providence Health Care is partnering with health organizations around the world in support of #Hellomynameis…Day on July 23. The roots of this campaign originated in the UK, when a young geriatrician named Dr. Kate Granger was diagnosed with a terminal form of cancer and became a patient within the same health care system that she worked. As a patient, she was troubled by how infrequently care givers introduced themselves before touching her and performing care. She decided to take action and #Hellomynameis… has since become a global movement.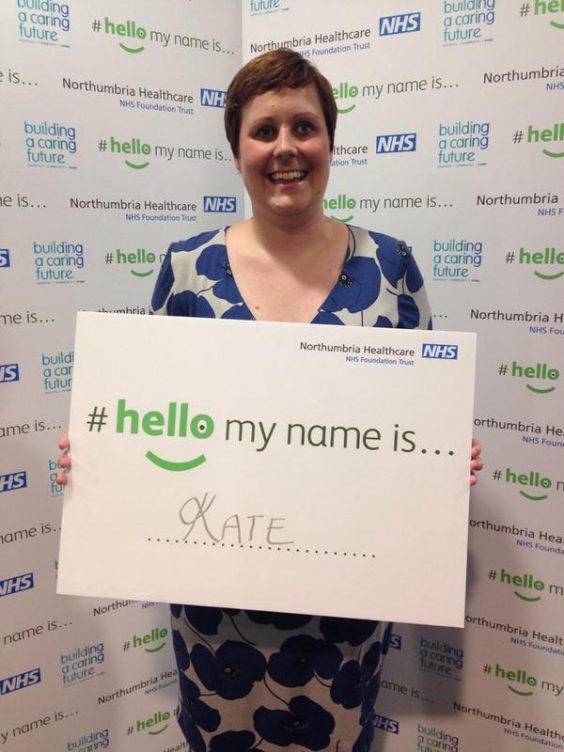 "I was very impacted by Dr. Kate Granger, who, tragically was diagnosed with cancer and then saw the health care system from the other side," says Fiona Dalton, Providence's President and CEO, who also originates from the UK. "An introduction is particularly important in the current COVID-19 pandemic, where we have more anxiety, less family interaction and more personal protective equipment, which mean that it's harder for our patients and residents to see our comforting smiles."
The (necessary) barrier of PPE
Those living with a chronic illness, as well as the elderly, are disproportionately more at-risk for severe illness or death due to COVID-19. So while continuing to provide care and services to these individuals as safely as possible, Dalton emphasizes the importance of ensuring these interactions are compassionate and person-centred.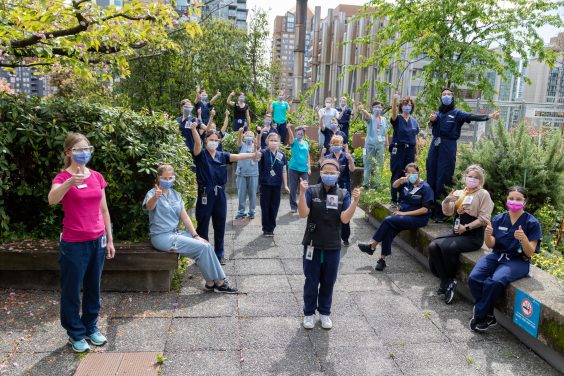 "As patients, we are thankful for the strict measures that have been put in place throughout our communities to help protect people who are vulnerable from COVID-19, but it can also be a disempowering experience," says George. "That's why person and family centred care is so important right now, because it begins to once again empower the patient. It doesn't dismiss them – it puts their voices at the forefront."
Calling on our history of compassionate care
For the last eight years, Providence Health Care has committed to the pursuit of person and family-centred care across all of its programs, sites and services.
"Person and family centred care is a foundational principle at Providence and encompasses three domains – the care experience, patient and family engagement and patient and family education," says Kate McNamee, . Practice Consultant, Professional Practice and Nursing. "Being intentional with an introduction demonstrates respect for one another and sends the message that we are partners in the care experience. It's such a really simple act with far reaching impact."
For an organization with a 126-year history of providing compassionate care, the practice of partnering with patients, residents and families to co-create health care solutions has been a natural fit. But there is still work to be done.
"I often think about what our Founding Sisters would think if they were magically transported to this time right now," says Fiona. "I think of all the things they wouldn't recognize – an ECMO machine, or a dialysis machine, or the Cerner computer system, but I do think that they would recognize the most important things. They would see humans looking after humans, and us caring for the most vulnerable people in society, and I think they would recognize the "Hellomynameis…" campaign. The bond of common humanity starts with that graciousness of introducing yourself and knowing who it is who is looking after you."
Anyone can participate. Just start with an introduction.
Please enjoy Providence's #Hellomynameis….video:
Learn more about Dr. Kate Granger and the #Hellomynameis… movement here.