Nearly 20 per cent of Canadian men screened for prostate cancer may undergo unnecessary surgical biopsy. This results in avoidable health complications, anxiety, and excess cost to the health care system. The problem is the current blood test used to detect prostate cancer has a high rate of false positives.
A new project led by CHÉOS Scientist Dr. Annalijn Conklin looks to change the way we diagnose and treat prostate cancer by analyzing the cost-effectiveness of a new testing method.
The current practice for early detection of prostate cancer in BC is a rectal exam combined with a prostate-specific antigen (PSA) blood test. This is offered to men between 50 and 70 years of age.
If the concentration of PSA – released when there are a large number of abnormal cells in the prostate – is high enough, the patient will be sent for a surgical biopsy. However, around 60 per cent of men who have abnormal PSA and undergo biopsy do not have prostate cancer. On top of this, many patients who do have prostate cancer detected during biopsy have a benign or non-aggressive tumour. This results in an increased and unnecessary burden on physicians, patients, and society at large.
New prostate cancer test detects who does NOT have it
A new diagnostic blood test developed by one of the project's co-investigators could improve decision-making around which patients require biopsy. The test detects a unique carbohydrate in the blood that is associated with prostate cancer. It is very good at detecting who does not have the disease (low false positive rate).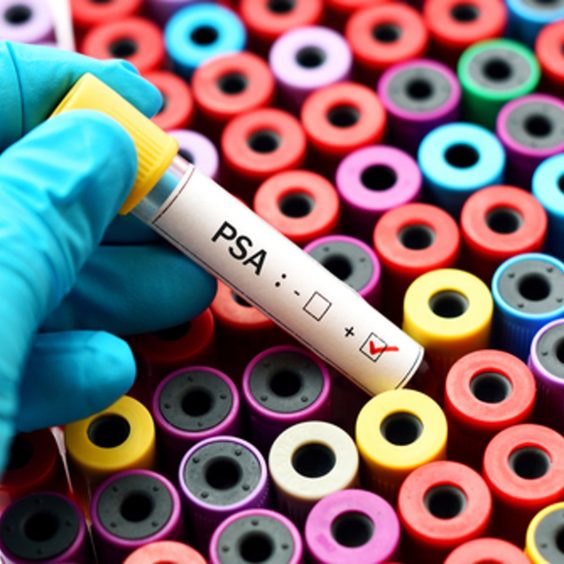 In combination with the current PSA screening test, the new test is also effective at distinguishing between low- and high-risk prostate cancer. This novel method has the potential to improve efficiency and save money. Most importantly, it could improve patient quality of life by detecting most cases of prostate cancer and reducing the number of false positives.
But does the new test make economic sense?
However, instead of scaling up this new test immediately, we need data to show that it is cost-effective. By assessing this at an early stage, the researchers aim to avoid the pitfall of developing and launching a new test that can't be supported by our health care system.
The study team, which includes CHÉOS Scientists Drs. Wei Zhang and Larry Lynd, will build a series of models that will compare the different prostate cancer detection strategies. This will include the current standard of care and the new blood test.
The researchers will estimate the benefit of each test in terms of quality-adjusted life years (QALYs) gained by each strategy, compared to doing nothing. QALYs are a combined measure taking into account the years of life and the quality of life during those years. This methodology will allow decision-makers to understand the cost per QALY gained to decide whether the benefit is worth the cost.
In addition, the team will analyze whether there is a specific subgroup of patients who could benefit more from a new screening strategy. For example, is it most cost-effective to restrict additional testing to men between the ages of 50 and 60? Or should it be offered to all men who are eligible for screening?
Prostate cancer is one of the most common cancers in the country; one in seven Canadian men are diagnosed in their lifetime. This project will help policy-makers and clinicians make informed decisions about how to best screen for this disease while providing optimal value for money for the Canadian health care system.
---
The project is supported by the Canadian Glycomics Network, MSFHR, and CHÉOS.
September is Prostate Cancer Awareness Month.
Story originally published on the CHÉOS website August 28, 2020.