A global pioneer in the treatment of HIV/AIDS is being recognized for his groundbreaking contributions to medicine with a commemorative postage stamp.
On September 10, Canada Post issued a set of five stamps celebrating six Canadian physicians and researchers whose discoveries have saved lives and revolutionized patient care around the world.
Dr. Julio Montaner, Director and Physician-in-Chief at the BC Centre for Excellence in HIV/AIDS at St. Paul's Hospital, is among the honorees, along with Drs. Bruce Chown, Balfour Mount, Vera Peters, and James Till and Ernest McCulloch.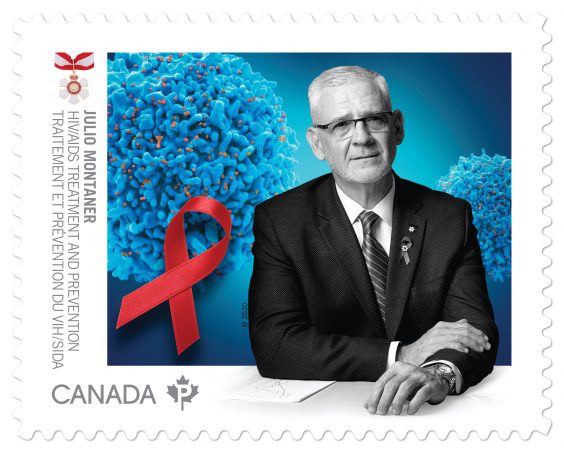 Treating some of Canada's earliest cases of AIDS in Vancouver in the 1980s inspired Dr. Montaner to dedicate his life to studying the fatal disease. His research on the use of various drug combinations led to the development of highly active antiretroviral therapy (HAART). Now considered the global standard of care, this life-changing treatment helps slow the progression of HIV disease so that it doesn't lead to AIDS, and enables those living with HIV to have a near-normal life expectancy. Antiretroviral therapy remains key to the Treatment as Prevention strategy that Dr. Montaner proposed to help reduce HIV transmission – a strategy that has now been adopted around the world.
"This particular honour has unique significance because I view it as the recognition from the people of my adopted country, Canada," said Dr. Montaner, who was born and raised in Buenos Aires, Argentina.
This stamp issue salutes six remarkable individuals and the many other health care professionals, scientists and technologists who have devoted their lives to creating a healthier world – including those working tirelessly to develop diagnostics, treatments and preventions to help end the current COVID-19 pandemic.
"I think there are real lessons we can learn now from how we managed a different virus, HIV, in the early '80s – a virus that was really scary that we didn't know anything about, which we had no treatment for, and we can see that again with COVID now," said Fiona Dalton, President and CEO, Providence Health Care. "We are really benefitting from that work in terms of HIV/AIDS and how we can apply that to our new pandemic."
All of the physicians and researchers recognized with this new set of stamps have been invested into the Order of Canada and the Canadian Medical Hall of Fame.
This story was adapted from Canada Post Magazine. Read the original here.