While the number of patients in St. Paul's Hospital's intensive care unit has roughly doubled since the early days of the COVID-19 pandemic last spring, the death rate among these acutely ill people has decreased since then, says a St. Paul's ICU doctor.
That's because a deeper understanding of how COVID-19 affects the body has changed and improved the course of treatment for seriously ill ICU patients, says Dr. Del Dorscheid, also a principal investigator at the Centre for Heart Lung Innovation.
To mark Canadian Intensive Care Week this week, Dr. Dorscheid reflects on the evolution of care for acutely ill COVID-19 patients and how he and his colleagues are faring as infections refuse to let up.
One of the first changes is the demographic of critically ill patients, he notes. In the first wave last spring, the virus struck elderly people, in large part via the spread through long-term care facilities. Many died. Now, he and the team care for ICU patients in the 40-to-70-year-old range, many of them obese with related medical problems like diabetes.
This younger cohort of patients is relatively healthier, but they can still become critically ill due to their other health issues.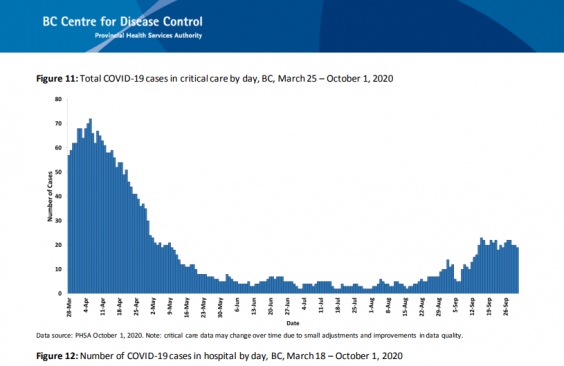 Inflammation a big problem in acutely ill COVID patients
Another change in the ICU is the advancement of targeted treatments – a result of ongoing research from around the world. At the outset, doctors thought COVID was a severe respiratory illness. "Initially it was called a viral pneumonia with acute respiratory distress syndrome (ARDS), and that's what we treated ICU patients for," says Dr. Dorscheid. "But now, we've learned critically ill infected patients aren't really suffering from ARDS, and that many features or ARDS are not present."
He says experts have learned that the biggest challenge facing seriously ill COVID patients is a severe inflammatory response to the infection that can cause small clots, or emboli, to form throughout the body. They can lead to deadly complications like multi-organ failure and strokes.
Oxygen, not ventilators
Dr. Dorscheid says many ICU patients are hypoxic (meaning their tissues are starved of oxygen), and for them, being placed on a ventilator, a treatment of last resort that can lead to serious, lasting harm, is not appropriate for those with COVID pneumonia.
"Part of what we've learned is hypoxic patients need oxygen, not ventilators." The ventilator does not fix all causes of hypoxia.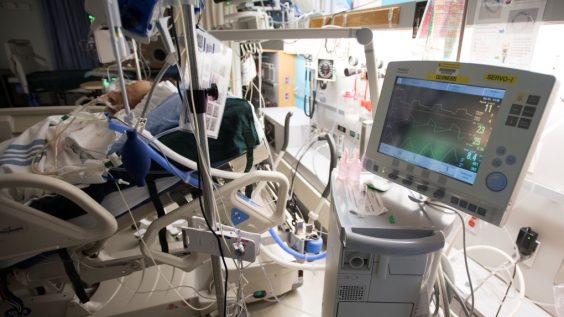 A benefit of that discovery means fewer patients may develop the serious condition of ventilator-induced lung injury or ventilation associated pneumonias.
Now, for some ICU COVID patients, the first line of treatment is often a combination of oxygen, steroids to combat the inflammation present, and anti-coagulants to reduce clot formation.
This new knowledge is contributing to a shorter ICU stay for many patients, says Dr. Dorscheid. That helps the ICU avoid an overwhelming number of cases, as does a strong in-hospital surge plan if more patients were to need accommodating.
Tapping into global expertise to improve care
Dealing with the evolution of COVID care involves input from experts the world over, says Dr. Dorscheid. Each day, he scans the literature around new and changing COVID demographics, therapeutics and outcomes. "Sadly, we've learned from the mistakes of other countries."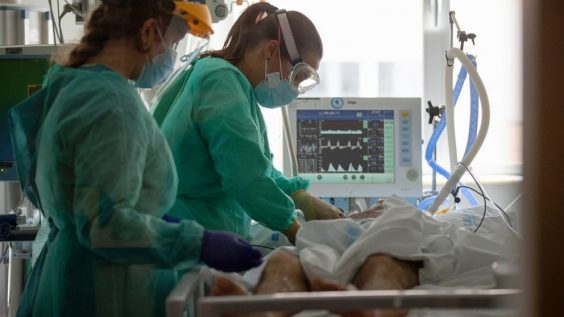 The impact on the ICU team
"There's still that fear among our clinicians that you could get it – it could just take a badly placed thumb on your mask to infect yourself," he says, adding that won't change until a vaccine or effective therapeutic is developed.
And while things have settled somewhat in the ICU, he acknowledges colleagues are still prone to burnout. He himself has seen his four adult children only once this past year, owing to COVID rules. That's been hard when seeing family provides comfort with a stressful job, he says.
Dr. Dorscheid commends St. Paul's for recently launching a daily wellness questionnaire that explores the mental health of those in ICU. "That's huge. It goes well beyond taking your temperature. A lot of people are working very hard to provide good care. They don't realize how burned out they are and that they may need to talk to someone."
"Spend an hour in my shoes"
And so many are still making sacrifices. In the early days of the pandemic, he recalls how one ICU respiratory therapist sent her family to Victoria to live so she would not put it at risk of infection. With the current rise in cases, "she may have to do that again."
People who object to masks and other safety measures frustrate him greatly. "I see the sacrifices my colleagues make, so when I see people saying it's a hoax, don't wear a mask, I say to them, 'Come and spend an hour in my shoes here.'"