Imagine living with chronic pain so debilitating that simply brushing up against your kitchen counter doubles you over in agony. That was reality for Miriam Bennett, a White Rock resident who had been living with chronic pain for more than a decade following a surgery to remove a large, benign tumour from her lower abdomen.
"(The pain) started at the site of the tumour surgery but moved to being on the surface of my skin. Even the touch of a Q-tip on my skin was excruciating," remembers Bennett.
The challenges of treating neuropathic pain
The type of pain Bennett was experiencing is known as neuropathic pain. It is caused by damaged nerve endings that send pain signals to the brain when there is no actual injury to that part of the body.
In search of a way to manage this pain without simply increasing her daily dose of painkillers, Bennett ended up visiting a Vancouver pain clinic. Various treatments were tried, including including dietary changes, mindfulness practice and safe movement exercises. They helped Bennett, but she still needed pain killers, including opioids, to manage even simple activities like getting out of bed.
Stimulating nerves to treat pain
Today, Bennett is taking huge strides toward living a more pain-free life after being referred to receive a new treatment called dorsal root ganglion stimulation at St. Paul's Hospital. Approved for use in Canada in early 2020, Bennett was the first British Columbian to receive this treatment that involves implanting electrical leads next to the dorsal root ganglion — one of the control centres for nerves coming into the spinal cord.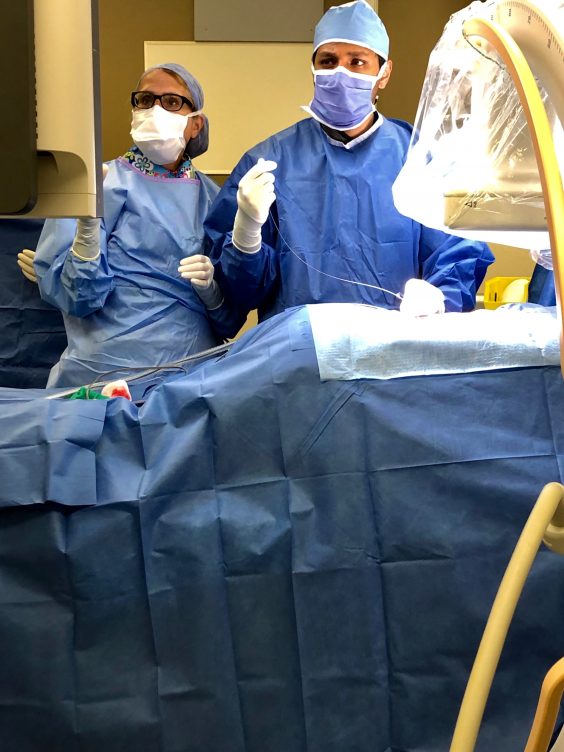 "Neuropathic pain is very challenging to treat, and it has a considerable negative impact on patients," says Dr. Vishal Varshney, Bennett's physician and an anesthesiologist with the Interventional Pain Clinic at St. Paul's Hospital. "We are excited to offer this procedure here in BC so we can help patients regain function and improve their overall quality of life."
Stimulating the nerves in the spine is not a new treatment for chronic pain – it has been available since the late 1960s and has provided relief to hundreds of thousands of patients around the world. But traditional spinal cord stimulation doesn't work as well on pain originating in the hands, chest, abdomen, feet, knees or groin.
Only a few years ago, researchers discovered that the dorsal root ganglion, located between the vertebrae and the spinal column, plays a role in the development of chronic pain. Previously, researchers thought this ganglion was simply a conduit between peripheral nerves and the central nervous system. By targeting nerve roots in the dorsal root ganglion, they could interrupt the pain signals from specific parts of the body and relieve the patient's experience of pain.
New treatment fine-tunes nerve stimulation
Bennett did a trial run with the treatment in late August. For the four days that she had the electrical leads and battery pack taped to her body, she noticed significant improvement in her pain. In early November, she was back at St. Paul's to make it permanent.
The outpatient procedure is fairly straightforward and only takes a few hours. Electrodes are implanted near the dorsal root ganglion and then attached to a battery pack, also implanted under the skin, that sends electrical signals up the spinal column.
Bennett was back home the same day, and ten days post-surgery, she has noticed a significant decrease in her pain. "I'm not taking as many painkillers – in fact, I haven't taken any yet today," she says.
"I bumped into my kitchen counter last night and it didn't hurt," she adds with a note of excitement in her voice.
According to Dr. Varshney, nearly one in five British Columbians experience chronic pain, and of that group, an estimated 20 to 60 per cent of them are experiencing neuropathic pain.
" This specific procedure could help hundreds of people," says Dr. Varshney. "It is an exciting step forward in our approach to pain management in Canada ."