When Sarah Sawers heard about St. Paul's Hospital's new virtual prenatal workshops, established due to COVID-19 last year, she was excited. They would be valuable preparation for the upcoming birth of her first child.
She signed up for her first session, with husband Gordon, on June 16. She was 36 weeks along.
That day, Sawers, a cardiac nurse at St. Paul's, woke up with lower-back tightness. At one point, the pain became severe. Yet with no other signs of labour, she dismissed it all as part of her pregnancy.
St. Paul's virtual prenatal classes a first in BC
At 5 pm, she logged on to the St. Paul's virtual Zoom class, a first in the province. The topic – ironic, Sawers would later think – was "Signs of Early Labour."
One of the first signs mentioned by workshop leader Jenna Baumgartner, Clinical Nurse Educator at St. Paul's Maternity, was back pain.
"Oh," Sawers told the class. "I'm having that." Baumgartner advised her to jump off the call if need be.
Sawers, now experiencing regular contractions, heeded the advice. "The intensity was kind of up there."
She lasted 45 minutes in the class then hastily signed off. She and her husband made a mad dash to St. Paul's, arriving at 7 pm.
"I work down the hall from maternity, so at least I knew where to go," she laughs. Daughter Avery came quickly at 8.30 pm, weighing five pounds, 15 ounces. Apart from a bit of jaundice, she was fine.
Expectant moms from across BC can take the classes
April marks a milestone for the virtual resource, whose team is celebrating its first "birthday," says Andrea Firmani, a Clinical Nurse Educator at St. Paul's Maternity who also leads classes and was key to their development. She is proud of how the classes have evolved and supported so many women over the past 12 months, from Vancouver to Victoria, Port Alberni to Kelowna and Kamloops, and from the Fraser Health region.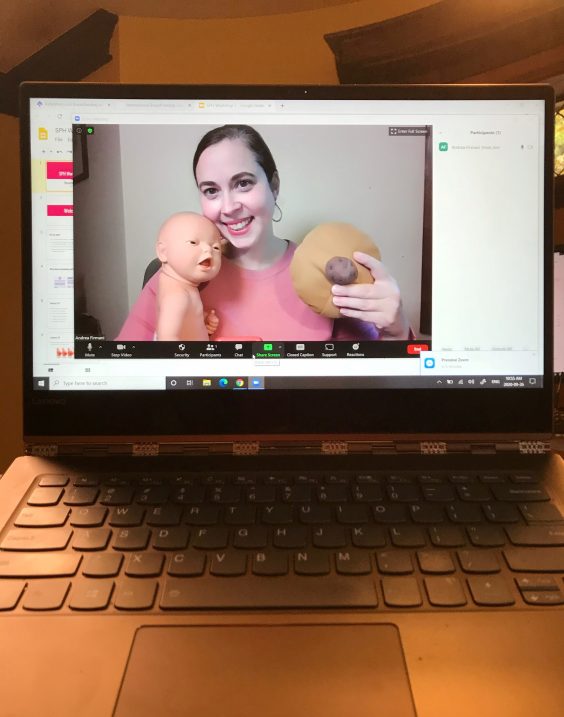 "We have had expectant parents from all over the province take our workshops, not just those who plan to deliver here." She and her colleagues have taught over 250 virtual workshops since the first one.
Something for everybody
What started out as the idea to do one prenatal workshop quickly moved into five different prenatal workshops. Some expectant parents take the labour and birth workshop, the postpartum and baby care workshop and the breastfeeding workshop. Others are second-time parents who want a refresher and will do the postpartum and baby care.
The virtual curriculum has grown to include workshops hosted by lactation consultants and pelvic floor physiotherapists. Nurse Baumgartner has set up private 1:1 classes for complex-care moms-to-be to normalize their experience and care. There are now workshops for women delivering by caesarean section.
The classes are for moms who will have hospital (vs. home) births, with the overall goal of providing them with the knowledge and confidence to make informed decisions that are right for their individual care, says Firmani. Classes are capped at three couples to keep the experience intimate and allow for a personalized learning experience, an important feature.
And luckily for Sawer, new parents can take in post-partum virtual sessions, known as SPH Parenthood Meetups, that the Maternity Unit offers.
"The prenatal part was a bit of a blur, so it was nice to see other moms in the post-partum meetups, where we could talk about things we were struggling with – feeding, proper dressing, weaning – things like that."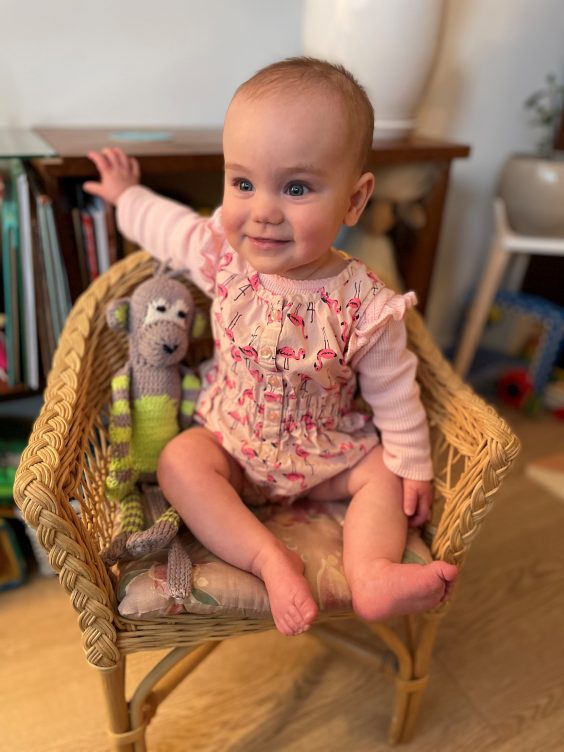 As for the birth, Sawers has high praise for the nurses and doctors who helped delivery little Avery.
"I had a great experience at St. Paul's. I got skin-to-skin contact right away and the whole experience was seamless."
Most importantly, her care team took the stress away from what could have been a fraught time with premature delivery.
"Every step of the way, I felt my husband, baby and I were in good hands."
To register for a virtual class, visit here.
To join the SPH Parenthood Meetup, email prenatalclasses@providencehealth.bc.ca. Or go to Instagram @bornatSPH.