In May, Dr. Mary De Vera led an online panel with those who, like her, had been diagnosed and treated for young-onset colorectal cancer.
Each of them had a story to tell, but what stood out was their relative youth.
Dr. De Vera, who had organized the panel, was 36 at the time of her diagnosis. A few others had been in their 40s. Notably, one young man had been diagnosed at 20, and another at 19.
"It broke my heart," says the scientist at the Centre for Health Evaluation and Outcome Sciences (CHÉOS) housed within St. Paul's Hospital. "They were incredible and open and sharing."
Colorectal cancer the 3rd leading cause of cancer death in Canada
Colorectal cancer survivors — or thrivers, as Dr. De Vera prefers to call them, and herself — under age 50 are seen as anomalies at a time when general screening programs for the disease target Canadians aged 50 to 74.
As the third-leading cause of cancer death in Canada, colorectal cancer has long been considered a disease of middle age. As Canada marks National Cancer Wellness Awareness Day on June 26, the good news is that screening programs have led to a significant decrease in the incidence of the disease, and if it's detected early, it's highly treatable.

But recent research shows that, for reasons not fully understood, young and middle-aged people are facing sharp increases in colorectal cancer diagnoses. In fact, colon or rectal cancer before age 50 is expected to double by the year 2030.
The findings could mean that with today's 50-plus age threshold for screening, colorectal cancer in a younger person may be detected only once the disease has reached an advanced stage.
Researcher-Turned-Patient-Turned-Researcher
In 2016, Dr. De Vera was 36, teaching at UBC and enjoying a successful career as a researcher of issues surrounding arthritis, pregnancy and medication adherence.
Then her life took a drastic turn. She was eight months postpartum, nursing her baby and with another child at home when she noticed blood in her stool. The diagnosis was colorectal cancer.
Five weeks of radiation, two surgeries, a temporary ileostomy and eight cycles of chemotherapy later, the course of her life and career was changed.
Research targets misdiagnosis and patients' age
With CHÉOS scientists and St. Paul's Hospital colorectal surgeons Drs. Carl Brown and Manoj Raval (Dr. Raval was her surgeon at St. Paul's), Dr. De Vera, appointed to CHÉOS in May, explores the path to diagnosis and raises questions about whether misdiagnosis may be tied to a patient's age.
This tracks with her goal to identify diagnostic opportunities for younger adults for colorectal cancer. This is particularly important as there remain debates in Canada on whether screening for colorectal cancer should be lowered to 45 years. The American Cancer Society and U.S. Preventive Services Task Force recently adjusted its screening age to 45.
Through qualitative studies with young-onset (under 50) colorectal cancer patients, the researchers have heard common themes, including the need for self-advocacy, frustrations with the healthcare system, and notably, the impact on mental health.

Dr. De Vera's research and her patient advocacy work inhabit distinct worlds. "I am part of many communities of patients and thrivers, but I find myself in the position to generate evidence," says Dr. De Vera.
"My number one job is to be the researcher, but I do take inspiration from having been a patient."
Breaking the silence on "below the belt" diseases

As their research makes inroads, De Vera and her team hope to see a broad shift in discourse on symptoms and prevention of "below the belt" diseases like colorectal cancer.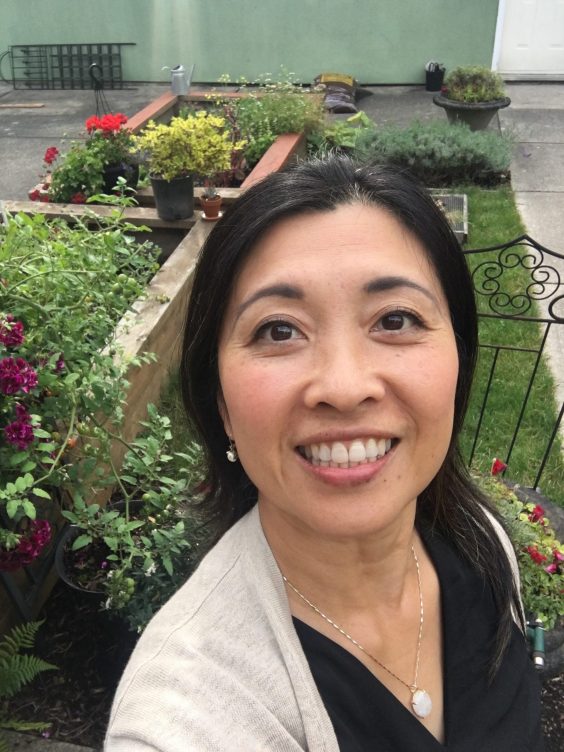 For Yuko Ikegami Lee, awareness starts within the family. When she hit 50, a trusted family doctor recommended a full physical exam, including a FIT (Fecal Immunochemical Test). After more tests she was eventually diagnosed with colorectal cancer.
Within weeks she had undergone surgery at St. Paul's and had begun the first of eight cycles of chemotherapy, which she completed in early 2020.
Know your family history of colorectal health
Ikegami Lee found strength in opening up to her family. Through frank discussions, she learned that her grandparents' stomach and pancreatic cancers and her brother's polyps-removal procedure could have been genetic red flags, if she had been aware of them earlier.
"I am from Japan, and we don't talk about what you do in the bathroom. There's a stigma.
"Now I talk to my friends, family and especially my daughters, to make sure they eat well and have good gut health."
De Vera, too, is candid about the importance of healthy bodily functions with her young daughters. With a new family history, both will be urged to get colonoscopies as early as age 26.
"We talk about it often: 'what does your Number 2 look like?' just to normalize it, to take the stigma away and keep the conversation going."