New research shows that older adults, including residents of long-term care, mount strong immune responses to a third dose of COVID-19 vaccine.
The pre-print findings, yet to be peer reviewed, show that while older adults mount weaker and shorter-lasting antibody responses to two doses of an mRNA vaccine, they mount a strong initial response after a third dose.
"Immune responses to two-dose COVID-19 mRNA vaccines are overall weaker in older adults, and also decline more quickly over time, compared to younger adults," the authors write. "A third COVID-19 mRNA vaccine dose enhanced binding and neutralizing antibodies to levels higher than those observed after two vaccine doses."
While the latter is encouraging, the authors caution that these initial responses were measured one month after study participants received their third doses. The rate of decline of these responses should be monitored, particularly in older adults with a higher burden of chronic health conditions.
Latest findings from ongoing study
The research team is co-led by Dr. Marc Romney, Medical Leader for Medical Microbiology and Virology at St. Paul's Hospital and Clinical Professor at UBC; Dr. Zabrina Brumme, Laboratory Director at the BC Centre for Excellence in HIV/AIDS and Professor in the Faculty of Health Sciences at SFU; and Dr. Mark Brockman, Professor in the Faculty of Health Sciences at SFU.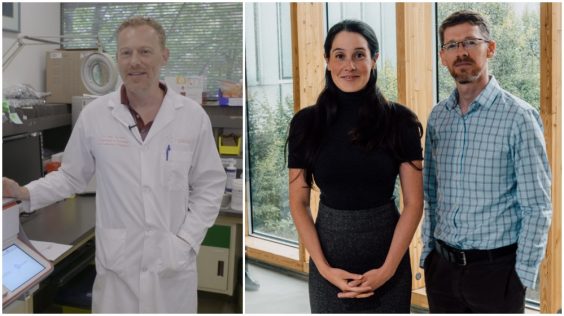 These findings are the latest from an ongoing study launched in December 2020 to examine immune responses to COVID-19 vaccination in older adults (including residents of Providence Health Care's long-term care and assisted living facilities), along with a comparison group of health care workers. The researchers have been following this cohort ever since.
Their first paper from this study, published in December 2021, reported on antibody responses up to three months after the second COVID-19 vaccine dose, and showed that the responses of older adults were weaker than those of younger health care workers.
Third doses very effective at raising immune responses
This new analysis, which comes as BC accelerates its booster program amid a surge in COVID-19 cases driven by the Omicron variant, examines antibody responses up to six months after the second vaccine dose. It also reports on the initial responses to third vaccine doses in a subset of participants.
After two vaccine doses, the antibody responses of older adults are consistently weaker than those of younger adults, the researchers found. This response also wanes faster in older adults.
The initial responses to a third dose, however, are robust in all participants – including older adults. Specifically, one month after a third dose, binding antibody and neutralizing activities were higher than peak responses observed after two doses in all participants. Importantly, third dose responses of older adults appeared to be comparable in magnitude to those of younger adults.
"This indicates that third doses of vaccine are very effective at raising immune responses in all persons," says Dr. Brumme. "Of course, the durability of these responses is also important, and we will continue to follow this cohort to assess antibody response decay after the third dose."
This work was supported by the COVID-19 Immunity Task Force (CITF), the Canadian Institutes for Health Research (CIHR), the Canada Foundation for Innovation (CFI), and the National Institute of Allergy and Infectious Diseases of the National Institutes of Health.
---
Related stories: