Today (June 8, 2022) is Clean Air Day in Canada and Providence Health Care's Department of Anesthesia is doing its part to help us all breathe easier.
An anesthesia technique is catching on for its patient benefits – as well as for its positive environmental impact.
Regional anesthesia is where parts of the body are individually made frozen during a surgery. Like local anesthesia, but bigger. And it has been proven to have many patient benefits, especially when compared to general anesthesia, which relies on inhalation gasses.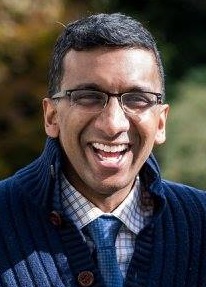 "Regional anesthesia is a very efficient model, since patients are more awake, less nauseated, and in and out of the hospital much quicker," says Dr. Chris Prabhakar, Director, Regional Anesthesia, Providence Health Care.
"At the same time the environmental impact is significantly less than if these same surgeries were done under general anesthesia."
The inhalational agents used in general anesthetic are known potent greenhouse gasses. They also contribute to the estimated 4.4 per cent of the carbon emissions emitted by health care globally.
In recent years, St. Paul's Hospital has turned its focus to implementing this anesthetic approach across the site. The surgical procedure room is now set up for six to 10 daily surgeries that can happen under only regional anesthesia.
In the hospital's operating room, regional anesthesia is used for a host of orthopedic, vascular, and plastic surgery patients – all of which are significantly lowering the hospital's carbon footprint.
Patient and environmental benefits
Other Providence Health Care sites have also started introducing regional anesthesia. This includes breast cancer surgical patients at Mount Saint Joseph Hospital. Previously 80 per cent of the surgeries once done under general anesthesia there are now done under regional anesthesia and sedation.
"Not only is this the environmental choice, but also allows patients to have better pain management and less nausea," says Dr. Prabhakar.
Dr. Prabhakar estimates this could lead to saving 1,745 kilograms of CO2 emissions per year just from the one clinic.
The success of regional anesthesia at Providence sites continues on and has also led to introducing regional anesthesia to new surgeries, including certain gynecology, general surgery, and cardiac procedures.