Last Father's Day, we shared the heartwarming story of Greg Shaw and Allen Penny, whose son Yukon was born prematurely and required specialized care in the Neonatal Intensive Care Unit (NICU) at St. Paul's Hospital. One year later, the dads are pleased to report that Yukon is thriving.
"He has been such an amazing addition to our lives. He is full of smiles, belly laughs and, unfortunately, a lot of poop – but that is just the joys of being a parent," Greg says.
Birth plans changed suddenly
It's been an emotional journey for the young family.
Greg and Allen live in Whitehorse but had to fly to Vancouver suddenly on April 16, 2021 when the birth mother to their child discovered her water had broken at around 33 weeks' gestation. The original plan was for Yukon to be born at Whitehorse General Hospital, but that facility was not equipped to support babies born that early. The hospital arranged for the birth mother to be sent by air ambulance to the Lower Mainland. Greg and Allen booked themselves on the next available flight.
Yukon was only 3.75 pounds when he was born and spent two-and-a-half weeks in the NICU at St. Paul's where he required an incubator to help regulate his body temperature, a feeding tube because he hadn't yet developed a sucking response, and phototherapy to help with jaundice. The team at St. Paul's made sure both dads were involved in their son's birth and care.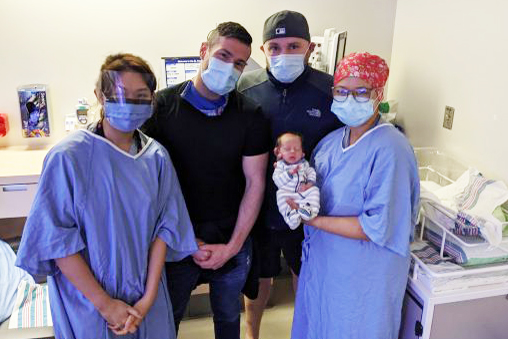 Today, at 14-months old, Yukon weighs in at a healthy 20 pounds. He just started daycare where he loves socializing with the other children. His dads report he has an easygoing personality, an inquisitive nature and piercing blue eyes that elicit plenty of compliments.
A rock star welcome
Greg (Daddy) and Allen (Papa) are also doing well and are both finding balance between their personal and professional worlds.
"We have learned a lot about ourselves and each other on this journey – we realize that being a father/parent is a selfless act and it has so many rewards. It can be exhausting by times, but there is no other job that we would love more."
The family was in Vancouver earlier this month and stopped by St. Paul's for a visit.
"Yukon was well-recognized and received a rock star red carpet entrance," Greg says, adding, "we continue to stay in touch with the St. Paul's Hospital NICU staff – although we do not see them often, they will always feel like family to us."