The provincial government announced today that people struggling with mental health and addiction will have access to more treatment and recovery beds, along with community-based aftercare services, through budget 2023 investments.
"It's essential that people who struggle with mental health and addiction can find and stay connected to the care they need quickly," Premier David Eby said in a news release. "Budget 2023 is the biggest investment in our province's history to improve access to mental-health supports, so that when people ask for help or need care, help is available."
Eby made the announcement Thursday at St. Paul's Hospital.
Budget 2023 sets out more than $1 billion in new funding over the next three years so that people living with mental health or addiction can find and stay connected to the care they need. As part of this funding, to support people struggling with addiction and into recovery, the Province is investing $586 million into the health-care system to add more treatment and recovery services.
Included in the investment, Eby announced 95 new beds would be part of the Road to Recovery program at St. Paul's Hospital. Of those, 45 beds will be located at St. Paul's Hospital and the remaining 50 beds will be implemented by Providence Health Care in the Vancouver area to create a seamless continuum of care.
Supports for people with concurrent mental-health and addiction challenges will also be expanded to regional locations throughout the province.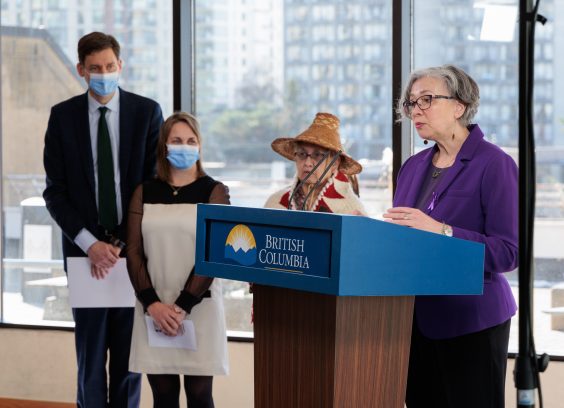 "A tiny window of opportunity"
Fiona Dalton, President and CEO, Providence Health Care, said this investment marks a major step forward in helping to close gaps in care.
"We need to be able to provide treatment and recovery for patients when they want and need it most – providing a responsive and integrated system of care, which seamlessly supports patients through treatment and recovery," Dalton said in the news release. "So often there is only a tiny window of opportunity to respond to patients when they ask for help. This announcement will enable us to meet this need and provide the life-saving treatment and recovery services which patients deserve."
That "tiny window" is something Mark Haggerty knows well. As someone with lived experience who is in recovery and works as a peer navigator at the Rapid Access Addiction Clinic (RAAC) at St. Paul's Hospital, Haggerty says there may just be a "brief moment of clarity" when someone struggling with substance use disorder is ready to seek help.
"If people miss that moment because the help they need is not available, the illness is prolonged," Haggerty said. "We have to take advantage of those moments with the right services."
Today's news made Haggerty feel hopeful for the many people who want to get better, but find it overwhelming to deal with a patchwork of support services.
"I believe this news will help get more and more people into recovery and on to leading healthy and fulfilling lives. I believe this will save lives."
Budget 2023 includes:
100 new publicly funded community adult substance-use treatment and recovery beds with no fees for British Columbians;
A new model of seamless care to support people through their entire recovery journey with 95 beds, with plans to expand this model to three more sites in B.C.;
Expanding the Red Fish Healing Centre model of care across the province so more people have access to these services closer to home;
New aftercare services at four new community recovery sites with dedicated workers to make sure people continue to receive the support they need when they leave a treatment facility;
a new $171-million investment fund for Indigenous-led treatment, recovery and aftercare services; and
Increasing services for young people, including crisis supports, culturally safe wraparound services, enhanced transition services and improved emergency room hospital-based care and discharge planning.
Better outcomes for patients, families, communities
Dr. Seonaid Nolan, division head, Providence Health Care's Interdepartmental Division of Addiction Medicine, clinician scientist, BC Centre on Substance Use, said this announcement presents an opportunity to transform how addiction care is delivered in BC.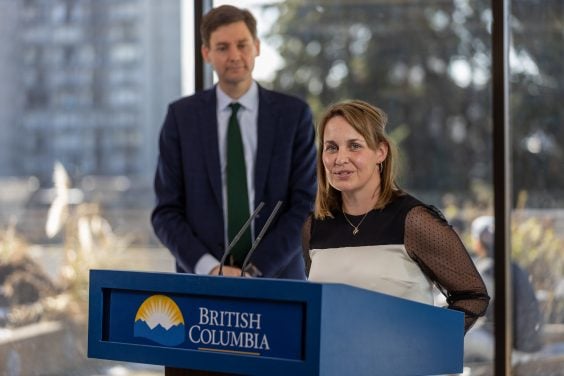 "This investment means more British Columbians will be able to access services when they need it no matter where they are, and will help to close the gaps that currently exist between harm reduction, detox, treatment and recovery," Dr. Nolan said in the news release. "As an addiction medicine physician, I am hopeful this approach will help me provide the evidence-based care that will lead to better outcomes for people who use substances, for their families that care for them and for the communities they live in."
This story was adapted from a BC Government news release. Read the full announcement.