It is BC Seniors Week, an occasion to mark the contributions of seniors across the province.
The number of seniors in the BC population is growing, and with that growth come increasing demands for seniors' care.
Seniors care has long been a priority at Providence Health Care. In a major effort to define and reinvest in seniors care, in 2017, it created Providence Living. Ever since, Providence Living has been working to transform the model of seniors' care into something that allows residents to truly feel like they are at home.
Home for Us
This model of care is called Home for Us. It is founded on three guiding principles:
Home is not a place, it's a feeling.
Emotional connections matter the most.
Residents direct each moment.
"If we want to reimagine seniors' care, then we need to redesign the principles that guide our work," says Tasia Tsatsanis, Leader, Quality of Life & Resident Experience, Providence and Providence Living. "These aren't just phrases. They are mission statements which help to guide real in-the-moment work with residents, families and staff to create normal, home-like living. These principles and building this new care model rely heavily on collaboration with everyone and putting our residents first."
The Views at St. Joseph's
In 2022, as part of this continued work and building upon the three guiding principles, Providence Living broke ground at The Views at St. Joseph's, a 156-bed, $52.6 million project.
Located in Comox, B.C., The Views at St. Joseph's is centralized on this new personalized, resident-driven model of care called Home for Us.
In this new build, residents will live together in small households, enjoy freedom of movement, safe access to the outdoors and community interaction, and opportunities for intergenerational connection.
Mountain View 2
Residents and staff from the current care home in Comox, the Views, will be invited to move into this new care home, which is slated to open in mid-2024. In preparation for this, one of the neighbourhoods at the Views, called Mountain View 2, was transformed into a new model of care pilot household.
In this household, the care and leadership team, residents, and families work in collaboration with the Home for Us model of care project team to trail many different ways of providing care that supports a day well lived.
One way Providence Living is transforming care is by supporting residents' life's pleasures. This starts with getting to know more about the resident – and taking time outside of care time to interact with residents to strengthen social connections. By knowing the resident and sharing this information, the care team can find ways to support residents to bring purpose and meaning into their day. This can be done by doing things with them outside their scheduled activities, things they would have enjoyed before moving into a care home.
"As the name suggests, life's pleasures are what give quality of life to our every day," says Tasia Tsatsanis, Leader, Quality of Life & Resident Experience, PHC and Providence Living. "Many of us in our early adult years participate in scheduled activities, like a social club, but most importantly, so many of our activities are spontaneous. To support our residents in living a normal life, we must find ways to support this spontaneity in our care homes and foster the connections that often accompany it."
Another way Providence Living is changing the delivery of care is by empowering residents and the care team to make meals in the household instead of all the food preparation occurring in a centralized kitchen. In most homes, the kitchen is the heart of the house, and by having residents help make their meals and snacks, the Home for Us team is allowing for an increase in collaboration, connection, and purpose.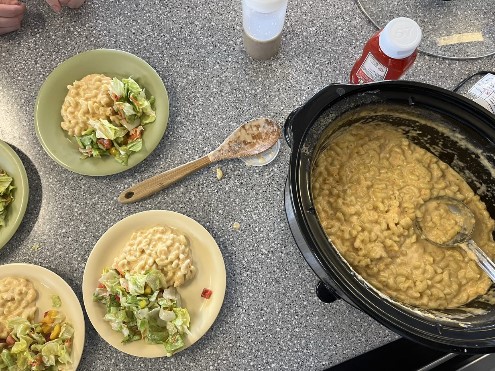 The trials currently taking place in Comox on Mountain View 2 will guide the scheduled 2024 opening of The Views at St. Joseph's, which will be the first publicly funded care home in Canada to implement this new model of care. 
Story by Shavahn Dhaliwal, Providence Health Care/Providence Living