It may have been decades ago, but veterans Colleen de Serres and Penny Stirling haven't forgotten why they loved flying so much.
"You're free, and you have this incredible freedom," explains 86 year old Colleen. "The only thing that is holding you up there is the metal of the airplane."
Penny grew up right next to an airfield in England and watched planes take off and land every day. The 94 year old says, "The feeling of being up in the air, looking out the windows, seeing all the people down below…that was what I loved."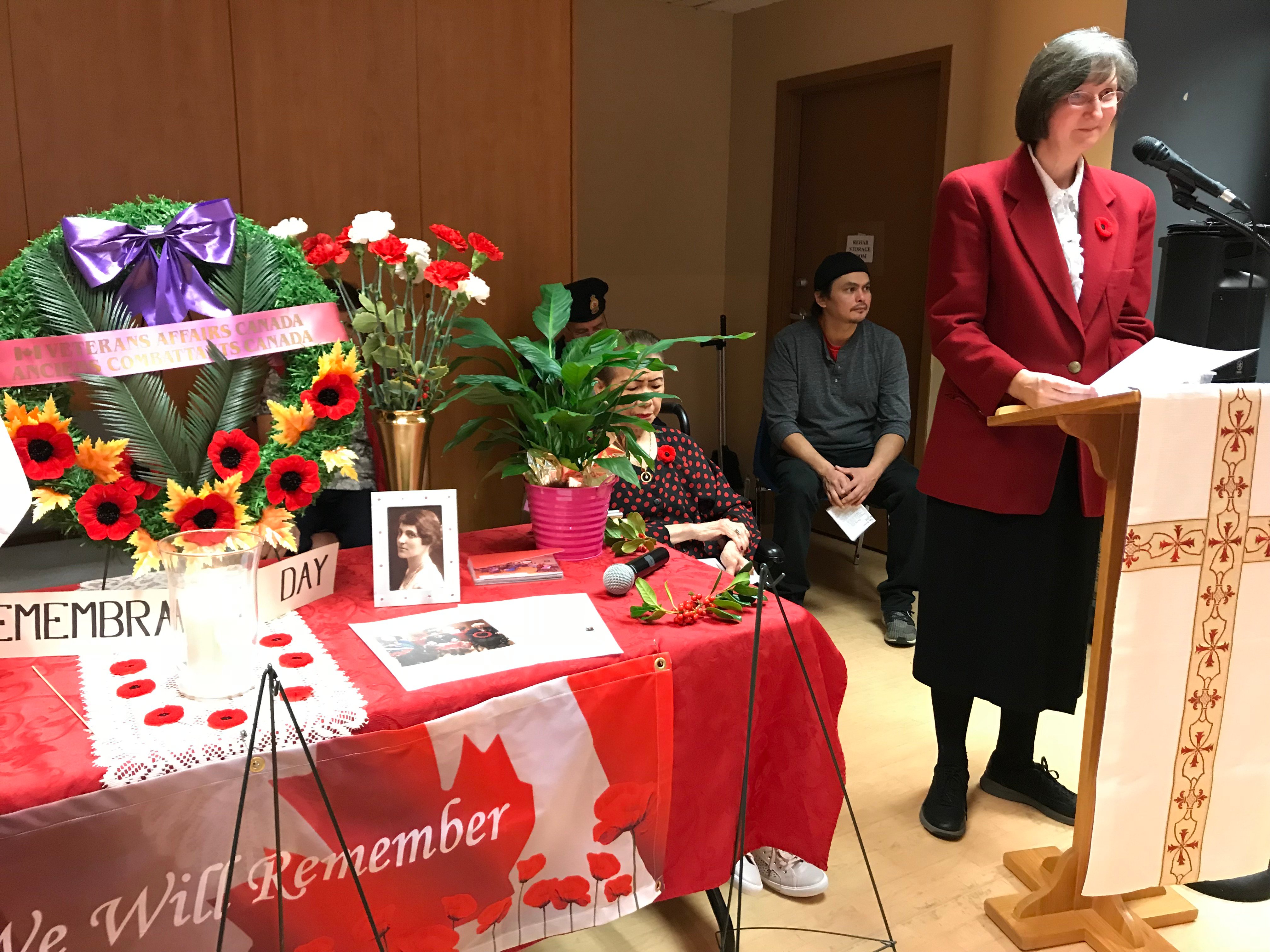 The women didn't know each other in their previous lives, but since coming to Holy Family Residence, they have become neighbours and friends, often swapping stories about their service days, especially around Remembrance Day.
Flying was in her blood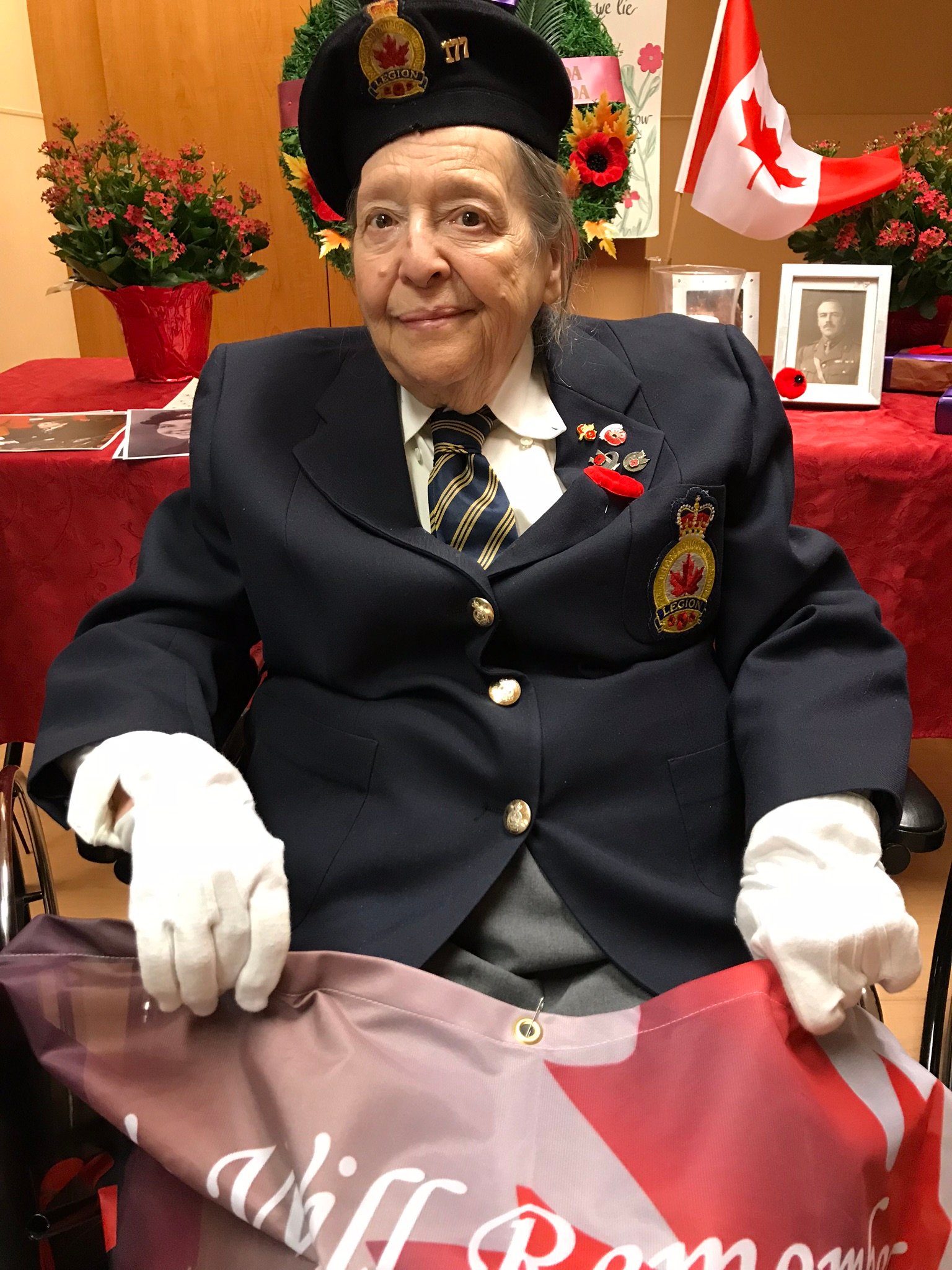 Colleen was an acting corporal in the Royal Canadian Air Force. She served as part of NATO as a leading airwoman and was a bilingual switchboard operator in France during the Korean conflict. Flying ran in her blood, literally. Her great uncle John Alexander Douglas McCurdy was an aviation pioneer. In 1909 he was the first pilot to fly over Canadian soil, in a plane he built himself, which was also the first flight in the British Empire. McCurdy went on to become Lieutenant Governor of Nova Scotia. Colleen's father was in the Air Force as well. Both men were huge inspirations for her.
"I couldn't believe I was up in the air," Colleen reminisces on her very first flight, "then we flew into the clouds and I couldn't see anything!" She flew a Tiger Moth and T-33 training jet and was just a month away from getting her civilian pilot's licence when she was struck by a truck on base and gravely injured. Colleen was unconscious for three months with multiple broken bones, burns and injuries. She spent another two years undergoing 25 surgeries and hours of rehab at Shaughnessy Hospital. But she doesn't like to dwell on the past, "Here I am now!"
A love affair with airplanes
Penny, a sergeant in the Royal Air Force during the Second World War who "always had a love affair with airplanes", remembers all the details of her first time flying. One day a plane buzzed by the airfield by her house, so she waited for the pilot to come back. When he swooped down again, Penny was ready – she had her thumb up like a hitchhiker. Amazingly, the pilot landed and let her hop on board for a ride. He even let her take over the controls for a few moments. When they landed, she laughs as she recounts what he said to her, "You're a lousy flier! You made me sick." She doesn't remember much about the pilot but there is no hesitation when asked about the type of plane. It was an Avro Anson.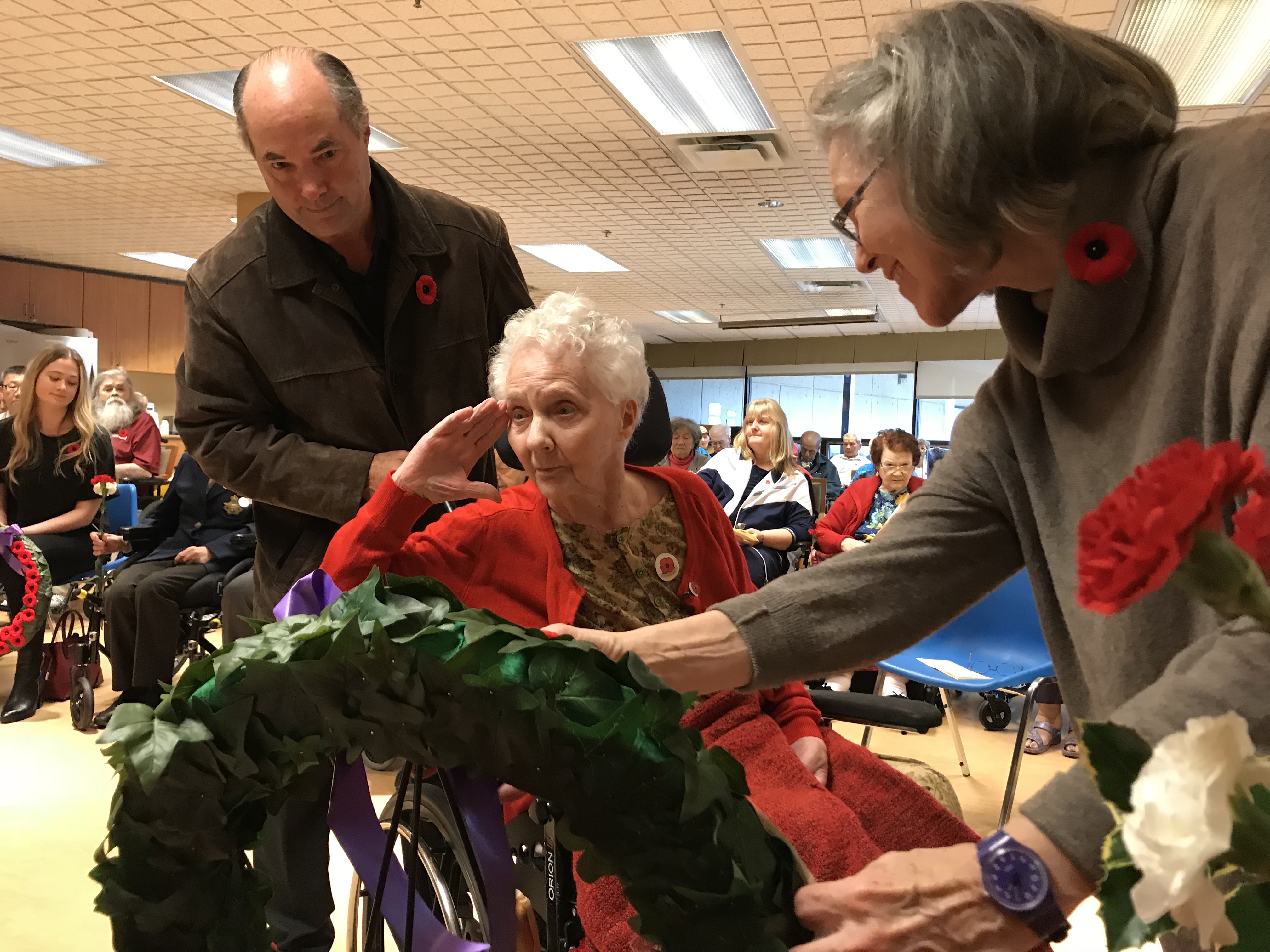 During the war, Penny was on "special duties", which she says is hard to explain in a few words. Her job involved getting all the information on each day's operations. She was also a plotter, which she describes as "the most boring job God ever thought of", and a watchkeeper.
"I liked the Air Force blues"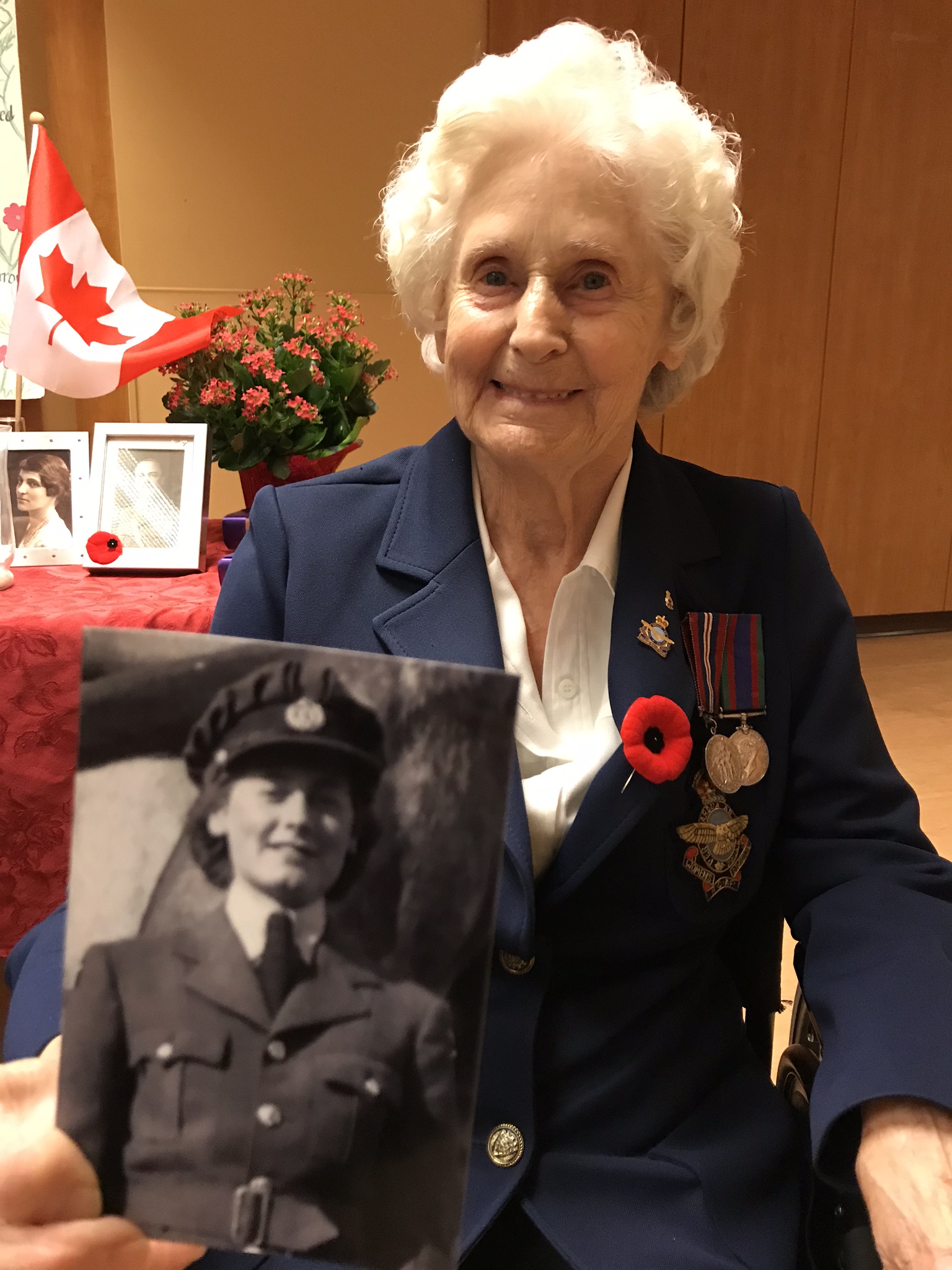 This week, the two women, who are the last veterans remaining in Holy Family Residence, were joined by a third female veteran from the Rehabilitation Hospital for a special Remembrance Day service.
Geraldine Grimway is a rehab patient who also served with the RCAF during World War II. The 97 year old says, "Everyone was joining up. All the boys were gone. My girlfriend and I liked the Air Force blues so we decided we were going to wear Air Forces blues."
Originally from Penticton, Geraldine served in Ottawa at Headquarters, as well as in Western Canada. She fondly remembers her time stationed in Vulcan, Alberta where the boys graduated with their "wings".
Honouring our war heroes
Remembrance Day is very meaningful to the three women, especially now there are so few of their fellow veterans left. There is a lot of laughter as they share their war stories, but also moments of sadness.
"It's very important for all of us to remember," Penny says. "I lost so many friends, mostly through combat."
Colleen tears up when talking about the emotional scars borne by those who did come home. "It's sad. My husband was Army and my father was Air Force. They are both deceased. Nowadays you would call it PTSD."
Geraldine says, "I had one boy I liked very much. They sent him on a mission and the first flight out he got shot down. War is very sad. All these young boys, so many of them we lost."
Geraldine Grimway, Air Force veteran.

Colleen de Serres, Air Force veteran.
LEST WE FORGET.
Read Brock Fahrni's Remembrance Day Ceremony story here.