On the same day that she attended the funeral of her sister overseas last February, Elizabeth* received a call from St. Paul's Hospital's informing her that she had become a grandmother for the first time.
That wasn't the end of the unexpected news for her and her husband, both retired west coast residents in their mid-sixties. They hurriedly booked a flight to Vancouver, then rushed straight to St. Paul's, where they would meet their granddaughter.
They would then become her parents.
Infant weighed three pounds
Baby Hope was born prematurely at St. Paul's Neonatal Intensive Care Unit, or NICU, weighing just over three pounds. Her mother was unable to care for the baby girl due to substance-use disorder, so the grandparents stepped in to raise her.
"I didn't believe it when I heard the news," says the baby's grandfather James*, who, with his wife, was unaware his daughter was pregnant. "It was like being told I had a third leg."
Hope is now nine months old and is meeting all her milestones. "She is in a high chair three times a day, she is in a jolly jumper bouncing away to beat the band, and she's sitting up," says Elizabeth. "She has two little teeth and there are more on the way."
Elizabeth credits the skilled, compassionate care provided at St. Paul's NICU for Hope's good health and development. "She couldn't have gotten a better start."
Hope is one of 30,000 Canadian babies born prematurely – and one in 10 worldwide – each year, according to the Canadian Premature Babies Foundation. Today it recognizes World Prematurity Day to highlight preterm births and the challenges they pose for child and family over the immediate and longer term.
A baby is considered preterm if it is born alive any time before 37 weeks of gestation. The couple's tiny granddaughter was born around 33 weeks but likely later, according to some members of her care team. Her mom did not know the exact gestation.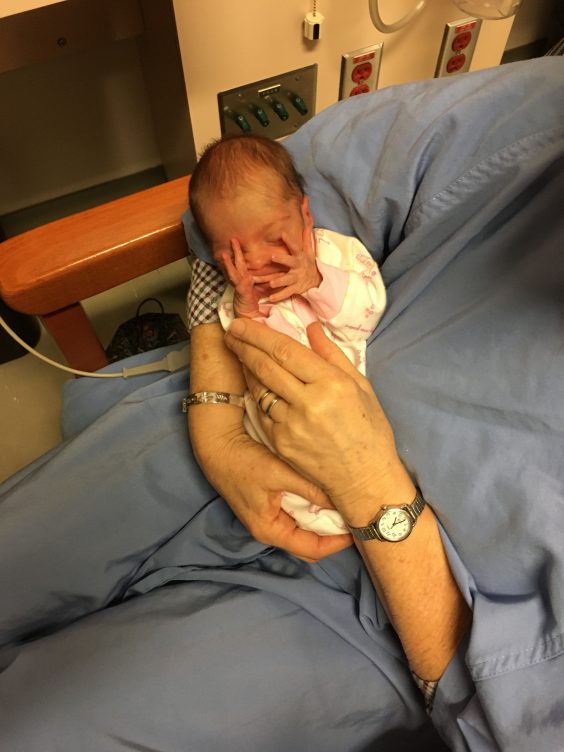 Infant was born late preterm
Typically, any baby born extremely preterm at St. Paul's (less than 33 weeks) is transferred to BC Children's and Women's Hospital for immediate care and stabilization, says Dr. Judith Wolfe, head of the Department of Pediatrics at St. Paul's.
"We can care for preemies who can take their food by gut, and not intravenously," says the doctor. "As well, we wouldn't care for preterm babies on a ventilator. Once the infant is stabilized, it can return to St. Paul's."
Baby Hope was considered late preterm, defined as infants born between 32 to 37 weeks. She spent a few days in an incubator and received light therapy for jaundice, but nothing more invasive than that. She also took well to bottle feeding. She began on donated breast milk, which her mother had agreed to receive from BC Women's Hospital, then transitioned to formula.
Preemies face jaundice, feeding and breathing challenges
There are three immediate problems common to most of the preemies at St. Paul's, explains Dr. Wolfe. The first is the jaundice, which is easily treatable.
The second, for preemies born under 35 or 36 weeks, is a lack of coordination needed to feed. "So we feed them with a tube until they're ready to eat themselves," the pediatrician says.
Skin-to-skin contact vital for preemies
A condition called apnea of prematurity – when a preemie forgets to breathe – is common among younger pre-term babies born at 32 or 33 weeks. They are treated with caffeine to remind them. "The really young babies are all on caffeine," says Dr. Wolfe.
Skin-to-skin contact with a preemie and mom is important to its well-being. It keeps them warm, promotes rapid weight gain and encourages bonding. "The movement of the mom's chest reminds baby to breathe too," says Dr. Wolfe.
Elizabeth did this right away with Hope, tucking the tiny baby inside her shirt.
The couple, with their new bundle, left the hospital about three weeks after the baby's birth. She had grown to four pounds, 10 ounces by then.
A preemie's future
"Preemies born at 32 weeks or more, when they enter elementary school, have no problems except anxious parents," says Dr. Wolfe. "We have good outcomes with preemies at St. Paul's, even with those whose mothers may have had challenges from substance use."
"Incredibly generous" birth mother
Dr. Wolfe says stories like this family's are not rare. "We've seen many women say to us, 'Take care of my baby.' That's an incredibly generous thing to do. None of these women are deliberately hurting their babies. They're doing the best they can to take care of them."
While Elizabeth and James' retirement plans have become suddenly and dramatically upended, they are beyond delighted about the little girl who unexpectedly entered their life.
James, who has become highly proficient at bottle washing, agrees. "She's a little joy for us."
And while he and his wife became the baby's parents without a second thought, "One day," says Elizabeth, "I hope her mom will come back into her life."
*The grandparents' last name has been omitted for privacy reasons.