This year the BC Centre for Excellence in HIV/AIDS (BC-CfE) at St. Paul's Hospital is celebrating its 30th anniversary. Since its inception in 1992, the advancements made by BC-CfE staff and its international collaborators have transformed HIV from a rapidly progressing fatal disease, to a chronic and manageable illness that is highly, and easily, preventable.
Given a provincial mandate by the Ministry of Health to "improve the health of British Columbians through the development, on-going monitoring and dissemination of comprehensive investigative and treatment programs for viral diseases," the BC-CfE built a centralized registry that served as a foundation to deliver on that mandate and more. This registry remains at the core of the BC-CfE's operations today and has enabled the research, monitoring and evaluation that sets the BC-CfE apart.
Antiretroviral therapy has been life-changing
Among the pivotal moments in BC-CfE history, the discovery and introduction of highly active antiretroviral therapy (HAART) ranks among the top. The widespread adoption of HAART following its worldwide introduction at the 1996 Vancouver International AIDS Conference was life-changing for those living with HIV/AIDS. Prior to HAART, the life expectancy of a 20-year-old person diagnosed with HIV was under 10 years. Following the implementation of HAART, life expectancy increased to more than 50 years.
The groundwork for this revolutionary advancement was laid over a decade before the BC-CfE was officially established, when the outlook for people living with HIV/AIDS was quite bleak. In 1981, when HIV cases first appeared in North America, a group of dedicated healthcare providers at St. Paul's Hospital came together to tackle this mysterious illness and in 1986 formed a comprehensive primary care clinic and specialized research unit which is now known as the John Ruedy Clinic.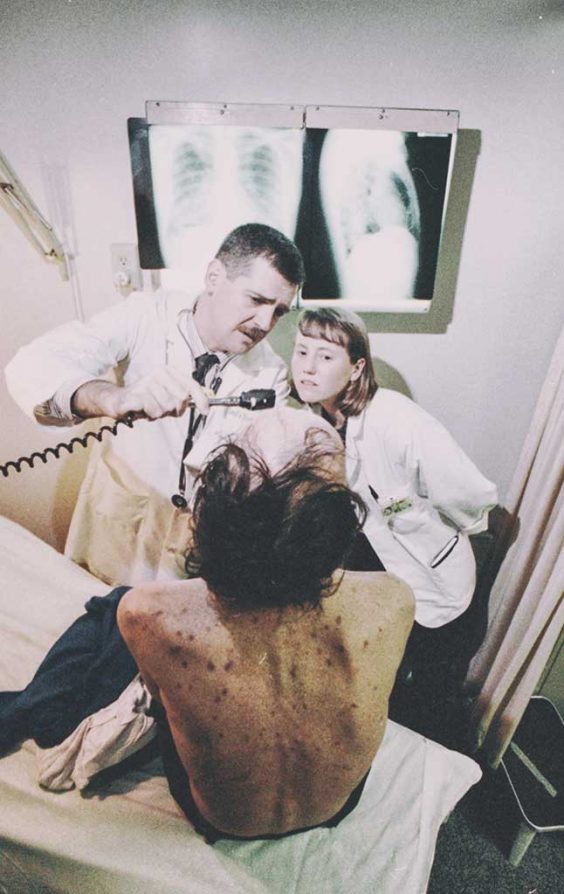 Among this team, was Dr. Julio Montaner, current Executive Director and Physician-in-Chief of the BC-CfE, who arrived in Canada in 1981 to begin a career in respiratory medicine. As his pulmonary training coincided with HIV's emergence, little did he know that the clinical cases he would see and solve in the 1980s, would not only inform a 40-year career as one of the world's preeminent HIV/AIDS researchers, but also lead to his leadership of an organization devoted to improving and prolonging the lives of those living with HIV in British Columbia.
Treatment as Prevention strategy supported by the UN
After the effectiveness of HAART, the BC-CfE went on to help shape local and global policy with its Treatment as Prevention (TasP) strategy. In British Columbia, thanks to the BC-CfE's advocacy, the Seek And Treat For Optimal Prevention Of HIV/AIDS (STOP HIV/AIDS) program was launched and successfully utilized TasP to improve HIV testing, linkage to care and treatment uptake.
Adopted by the United Nations, Dr. Montaner was directly involved in shaping the TasP inspired policy that was the UNAIDS 90-90-90 target by 2020. The 90-90-90 target calls for 90 per cent of people living with HIV to be diagnosed through testing, 90 per cent of those diagnosed with HIV to be on ART treatment, and 90 per cent of those on treatment to achieve sustained virologic suppression, which means they are unable to transmit HIV. BC exceeded this goal which has now become the 95-95-95 goal by 2025, which it is also expected to achieve.
Research drives innovation
Throughout its three decades, research has been the driving force behind the numerous innovations and discoveries. The Clinical and Research Laboratory has developed and pioneered tests that have become the standard. An Epidemiological and Population Health program with a broad spectrum of research keeps advancing the expertise and stature of the BC-CfE.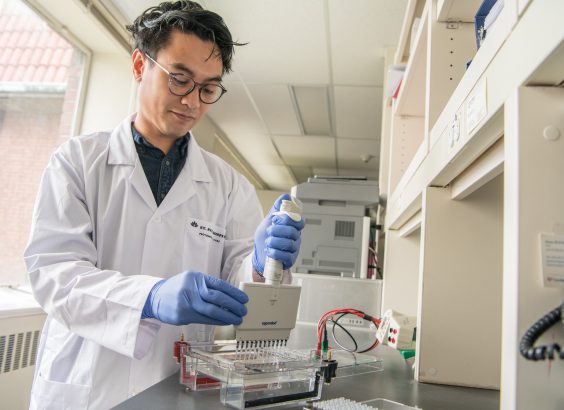 In addition to HIV/AIDS treatment, research and innovation, the BC-CfE has been a champion of numerous social causes, including a role in the fight for Insite, North America's first supervised injection site, that went to the Supreme Court of Canada (and won); advocating for decriminalization of drugs long before the current opioid overdose public health crisis; and fighting for special access for yet-to-be approved treatments for its patients along the way.
Rather than rest on the remarkable achievements related to HIV/AIDS, the BC-CfE continued to apply its expertise with TasP to accomplish more. Implementing a pre-exposure prophylaxis (PrEP) program in 2018 to further reduce HIV incidence in BC; developing a wholistic, comprehensive approach to care for poorly reached and poorly engaged clients in Vancouver's Downtown East Side at its Hope to Health Research & Innovation Complex; and partnering with other health organizations to apply its expertise and lead quality improvement initiatives that share and apply the TasP strategy to other viral and social contagions are some examples of the extraordinary work that the BC-CfE has done and continues to do today.
Over the coming months, the BC-CfE will be celebrating its anniversary through various events and publications featuring those who were a part of the story. Visit the BC-CfE website and follow the Centre on social media for more.
A version of this story originally appeared in the BC'CfE's Forecast newsletter. Read it here.
Related stories: