Driven by a shared compassion for patients with complex health needs, health care workers from St. Paul's Hospital's Emergency and Ophthalmology Departments have partnered to treat vision loss and glaucoma in patients from Vancouver's Downtown Eastside.

Providence Health Care Ophthalmologist Dr. Heather O'Donnell recalls one patient who may not have recovered were it not for this special dynamic between St. Paul's busy eye health clinic and the Emergency Department (ED).
Fearing the worst outcome

The man was 68 years old. His vision was so blurred he couldn't keep his balance; he was HIV-positive, and he struggled with many other health challenges. To complicate matters, he spoke only Spanish.
Emergency Department physicians examined him and feared the worst.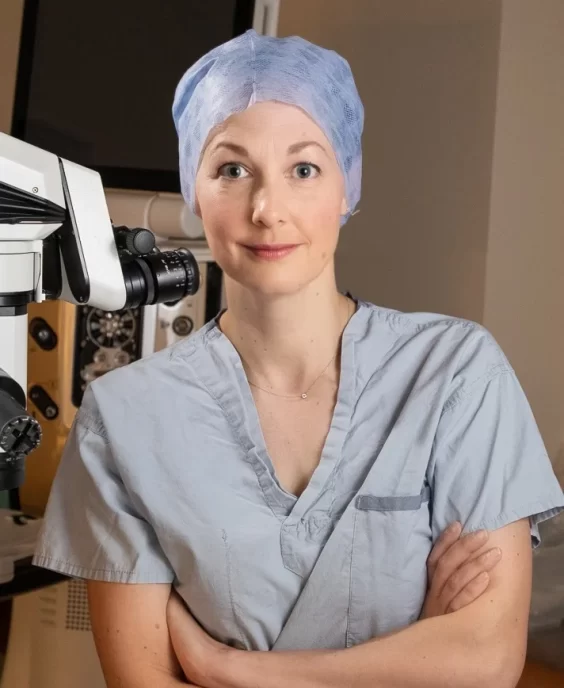 "I remember being told, 'If I try to send him to your office, he will never make it,'" recalls Dr. O'Donnell.
While ED staff connected him to the Urban Health team for HIV care, Dr. O'Donnell diagnosed him with advanced glaucoma. She immediately treated him for the elevated pressure that lies at the root of glaucoma.

"We have a great collaboration with Ophthalmology that allows for follow-up for these patients, often on the same day, to ensure they don't get lost [in the system]," says Dr. Erin Kenny, St. Paul's Emergency Department (ED) lead.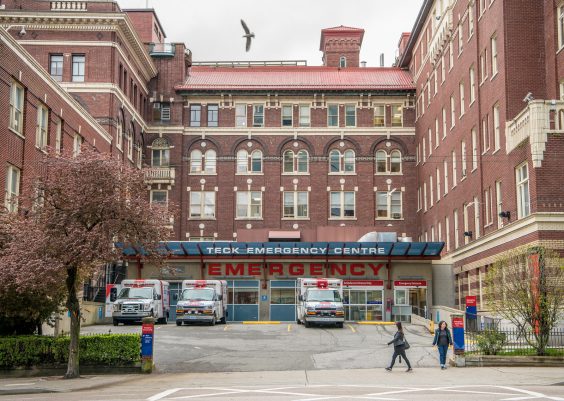 Thanks to collaborative efforts, Dr. O'Donnell's patient was admitted, while support services were set up for care in the community.
"I have been able to follow him along and see that his treatment is working and that the small amount of sight he still has is, for now, preserved."
Treating Ocular Disease in its Advanced Stages
Like the man Dr. O'Donnell recalls so vividly, patients from the Downtown Eastside often need early and immediate treatment for glaucoma, corneal ulcers and other serious symptoms that seriously impair eye health or they may be at risk of getting lost in the system.
Every day, between two and five patients that visit St. Paul's ED with eye complaints are seen by the on-call ophthalmology provider, she says.
"Vision loss and infections are the two most common things that we see in Emergency, and in some patients, that vision loss is due to glaucoma," Dr. Kenny adds.
More than 250,000 Canadians suffer from chronic open-angle glaucoma, the most common form of the disease, according to the Canadian National Institute for the Blind.
One of the more serious causes of vision loss, glaucoma is a chronic, progressive, degenerative disorder of the optic nerve that damages the visual field. It's thought that increased pressure in the eye, or intraocular pressure, may cause nerve damage that leads to glaucoma.
Untreated, it can cause total blindness over time, and it's irreversible, if not treated quickly, with daily medication.
Eye care a lower priority for residents struggling with the basics
It's not uncommon for emergency physicians to see patients from the Downtown Eastside when their vision has deteriorated. Worse yet, many are not in the position to comply with medications as they've been prescribed.
"When you have had a very difficult life, struggling to eat and struggling to find shelter, the basic necessities like going to a doctor can be seen as less of a priority," says Dr. Erin Kenny.

"In those cases, when [patients] present with significant vision loss, it's important to make sure that we get them connected quickly and do everything we can to make sure they don't get lost to follow up."

St. Paul's Emergency and Ophthalmology staff find some of their best allies in the Downtown Eastside itself. Many nurses who treat residents living with addictions are trained to look out for other symptoms, including vision loss.

"They might be presenting for another issue like substance abuse or infections, and that's an opportunity for us to engage with them at that moment to look at all the other health issues," says Dr. Kenny.
Dr. O'Donnell says the way that ED medical and support staff relate to patients, inspires her and her colleagues as they work together.

"Meeting patients where they are at is something our Emergency team is just so wonderful at, that they inspire the rest of us to do the same.

"Collaborations in the spirit of great care move from there."
Story by Mary Frances Hill